Cooley graduate Brandon Moultrie: Forging lasting memories and lifelong friendships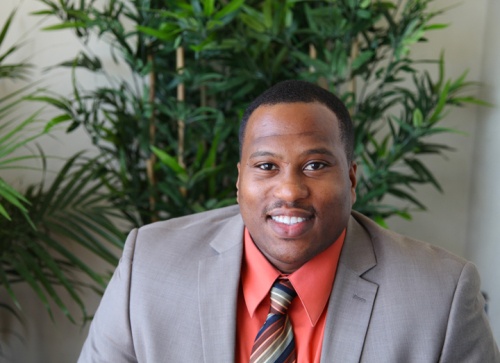 This blog was originally published on May 17, 2017
Cooley Law School graduate Brandon Moultrie knew he wanted to go to law school, and knew that he wanted to do it Florida.
Ever since he did his undergrad in the Sunshine State, he relished the opportunity to come back. It took one campus visit to Cooley's Tampa Bay campus to be convinced. Everybody made him feel like he was already home.
"Once I was on campus," remembered Moultrie, "I got to meet all the staff members. They showed me around the campus and explained to me what life would be like in law school. I got to meet lots of students – they were already sitting in the library, so it was easy to chat with them and get their take."
Moultrie found his education at Cooley invaluable, including his Trial Skills classes, which really stood out for him in terms of how prepared he felt in the courtroom.
"My Trial Skills training really gave me a solid foundation for what I do today as a prosecutor," stated Moultrie on his time at Cooley. "In Trial Skills you get three full trials. We had a witness. We had to go through the steps of examining the witnesses, cross-examining the witnesses, scouring over all of the evidence, seeing what was relevant, seeing what was not. We got a trial partner. We got to go up against our colleagues. It was actually my only experience before getting a job and doing it for real."
"I also felt I forged a lot of lifelong friendships among the students. I know that people don't really imagine when you are sitting in orientation, or sitting in your first semester class taking Intro to Law, or that the people sitting to your right or your left, or in front or behind you, are going to become your friends over the next few years, but that's what happens. Next thing you know, you will be professionals and referring cases to them and they will be referring case to you."
Moultrie also appreciated how prepared he felt during the bar.
"I took the bar and passed it the first time. Not only that, I felt prepared going into the exam. The bar prep courses at Cooley teach the concepts you will need to know. For me, studying and taking the Florida bar, was not learning something new, but a matter of reviewing concepts you knew. So when I was reviewing Contracts, I heard Professor Renalia DuBose's voice during her Contracts class from years ago – the same for my other classes.
That's when you really learn to appreciate the value of your school – because you know they didn't sell you short. They didn't just push you through or kick you out or leave you hanging when it really counts – when you're studying for the bar."
It's obvious that Moultrie is proud of his accomplishments and his alma mater.
"I'm not even a big "rah-rah my school" guy, but I never imagined the pride that I would feel for Cooley. Today, when I see another Cooley lawyer walk in, I'm so excited to see them. It's like seeing family you haven't visited in a long time. Many I see on a day-to-day basis.
We all come from different backgrounds and different cities and states. The Cooley alumni network is far and wide. It's kind of crazy to think that you can go to law school in Tampa Bay and still meet up with fellow graduates on the other side of the country."