Living a Dream that Began in Childhood: Dewnya Bakri-Bazzi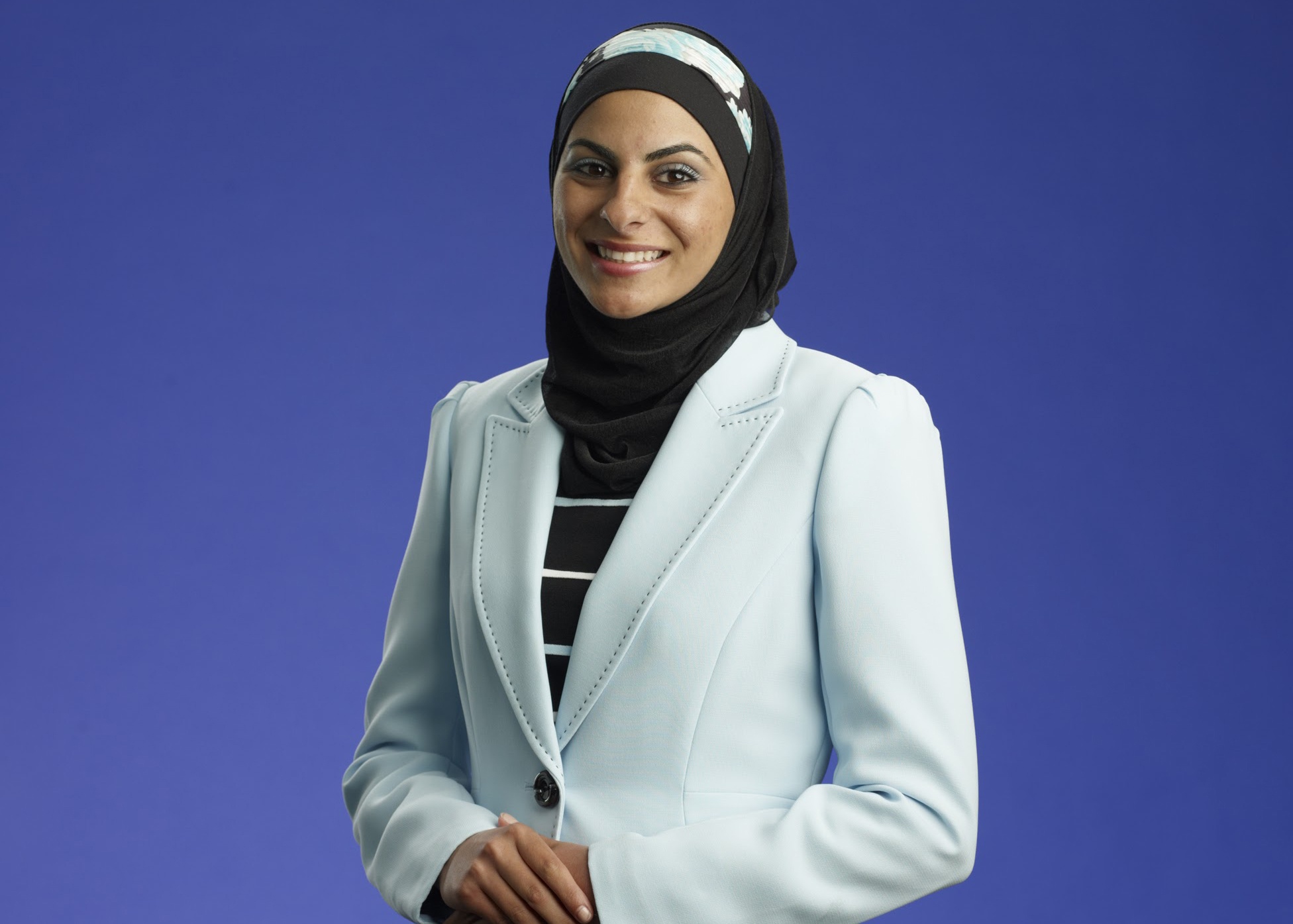 As a founding member of Dearborn, Michigan's At Law Group, Dewnya Bakri-Bazzi's (Chipman Class, 2011) journey into law began as a child and included influences from her family and faith.
Raised in Dearborn by parents who both came to the U.S. from Lebanon during their childhood, Bakri-Bazzi was, by age six, laser-focused on becoming an attorney.
"My parents have always called me the lawyer in the family," said Bakri-Bazzi. "I used to defend my older sister and my parents would say 'she is the older sister, sit back and let her do the talking,' but I never did."
Her parents instilled the value of education and hard work into her and her siblings. Her father and mother did not finish college but instead chose to marry at the ages of 20 and 18, respectively, and move to Dearborn. Her father worked in restaurants and gas stations and, through his hard work and dedication, was eventually able to take over ownership of several gas stations in the Dearborn community. Her parents even began distributing coffee to restaurants and gas stations in southeast Michigan under the Caffina Coffee brand, a successful business today with more then 400 accounts.
"My parents were so gung-ho," said Bakri-Bazzi. "If I could tell you the one thing that was etched into our brains it was 'go get an education, go to school, don't waver, make up your mind on what you want to do and go for it.' I think it is because my parents weren't able to finish college, and they knew the struggles they went through to build a successful business in order to provide for us."
While in high school, Bakri-Bazzi was determined to make it to law school. Inspired by observing her parents' hard work and listening to them about the importance of education, she was able to earn a full-ride scholarship for academics and community service to the University of Michigan-Dearborn. In addition to studying for a double major in criminal justice and political science, Bakri-Bazzi was a member of the university's women's basketball team.
After earning her undergraduate degrees in just 2 1/2 years, Bakri-Bazzi chose to attend Cooley after attending an open house with a friend.
"I fell in love with the family atmosphere. I went to other law schools' open houses and didn't feel as welcome. I felt like at Cooley I would be able to make an impact."
Being an athlete and avid sports fan, Bakri-Bazzi planned on a career as a sports agent. She even helped start the Sports and Entertainment Law Society at the law school's Auburn Hills campus. And because she enjoyed sports, she participated in many intramural activities and eventually led the campus' intramural sports organization by coordinating various activities with Oakland University.
MUSLIM HERITAGE IS IMPORTANT TO BAKRI-BAZZI
Before starting law school Bakri-Bazzi felt her faith calling her and decided to go on a pilgrimage to Mecca.
"I had not planned on the trip. We celebrated Ramadan before I went. I felt capable; I was healthy and young and had saved money to go," said Bakri-Bazzi. "Most people wait until they're older, but I couldn't find a reason not to go. You never know what is in store for you; you never know if you are going to live another day, so I decided it was time."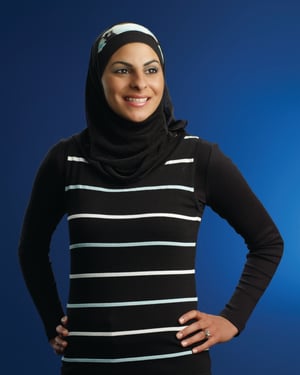 Following the experiences of her pilgrimage, and once she started in on the realities of law school, Bakri-Bazzi never wavered from her faith. She actually put her faith into action to make a difference. Early on during her time in law school, she started to notice organizations for various religious and ethnic groups on campus.
"It seemed at that time there was a lot of discussion in the national news about the Muslim faith," remembered Bakri-Bazzi. "Many of the students on campus were not from the Detroit area, or even from Michigan and many had never met a Muslim person before. I was the first Muslim many had met. I would sit down with fellow students and let them ask questions. From their questions you could tell there was no ill will, but rather the only exposure they had to the Muslim faith was through the news."
As she continued various discussions on campus, Bakri-Bazzi realized that, as a law school student, she was with some of the most influential people in society.
"Attorneys can impact the world," she said. "They are going to go home and have an impact on their communities. I realized I needed to do something."
With help from the campus deans, she helped form the Cooley Muslim Legal Society. The organization's first board was made up of individuals from all faiths. It was developed to educate students and faculty about the Muslim faith. Through the efforts of the organization, the campus began holding an annual interfaith dinner and various panel discussions.
The impact of the Cooley Muslim Legal Society was noticed by the greater Muslim population in southeast Michigan. Shortly after graduating, and passing the bar exam, Bakri-Bazzi was approached by members of the Michigan Muslim Bar Association and asked to become that organization's next president, a post she accepted.
CAREER PATH TAKES A SHARP – AND PERSONAL – TURN
Bakri-Bazzi had full intentions of pursuing a career in sports and entertainment law or even corporate law, but shortly after passing the bar exam, her brother was in a severe car accident and she saw the effect of the accident on her brother and family.
"I discovered the whole sense of personal injury law as helping and a way to give back to individuals suffering through pain and emotional distress," said Bakri-Bazzi. "I joined a personal injury firm and fell in love with the work I was doing. I really enjoyed going to court and helping people."
Helping others extends beyond the courtroom for Bakri-Bazzi. As a Muslim American and community leader, Bakri-Bazzi often finds herself assisting in a number of ways. Whether it's serving as a role model for young women or as an agent of change with colleagues in the legal profession, Bakri-Bazzi often finds herself as an unofficial ambassador of strength and enlightenment.
In the Dearborn community, she is often contacted by parents whose daughters are afraid to wear a hijab because it could have an effect on their careers. Often parents point to her as an example or ask Bakri-Bazzi to share her experience with their daughters.
"When I get those types of calls and hear those stories, it really is inspirational for me," she noted. "It makes everything worth it. There are challenges and it is not easy, but inspiring others makes it worth it."
Overcoming stereotypes and modeling professionalism in the midst of others' behavior can be a challenge sometimes. "Quite often as I walk in for a deposition, I am asked if I am the interpreter, or during a case evaluation panel I am personally attacked," said Bakri-Bazzi.
As shocking as those occasions are, Bakri-Bazzi is very conscious of the need to maintain professionalism and cautious about how she conducts herself in public. So what can be done in such situations? There's no quick answer. Said Bazzi simply, "I have to work to change individuals' impressions of me."
After two years working for a firm in Waterford, Michigan, Bakri-Bazzi wanted to help the community that she was raised in and that supported her family's businesses. She joined forces with two colleagues and formed the At Law Group in Dearborn in 2013. They began as a personal injury and criminal defense practice. Today the At Law Group is comprised of its founding partners and three additional equity partners. The firm employs 12 individuals and has expanded practice areas to include business, immigration, family, real estate, and nonprofit law.
Bakri-Bazzi was recently recognized by the National Academy of Personal Injury Attorneys as a top 10 attorney under the age of 40 and was recognized by Michigan Lawyers Weekly as an Up & Coming Lawyer.
---
This story originally appeared in the July 2017 edition of Benchmark Magazine.