Chelsea Rebeck: Success Means Anticipating and Pivoting with Change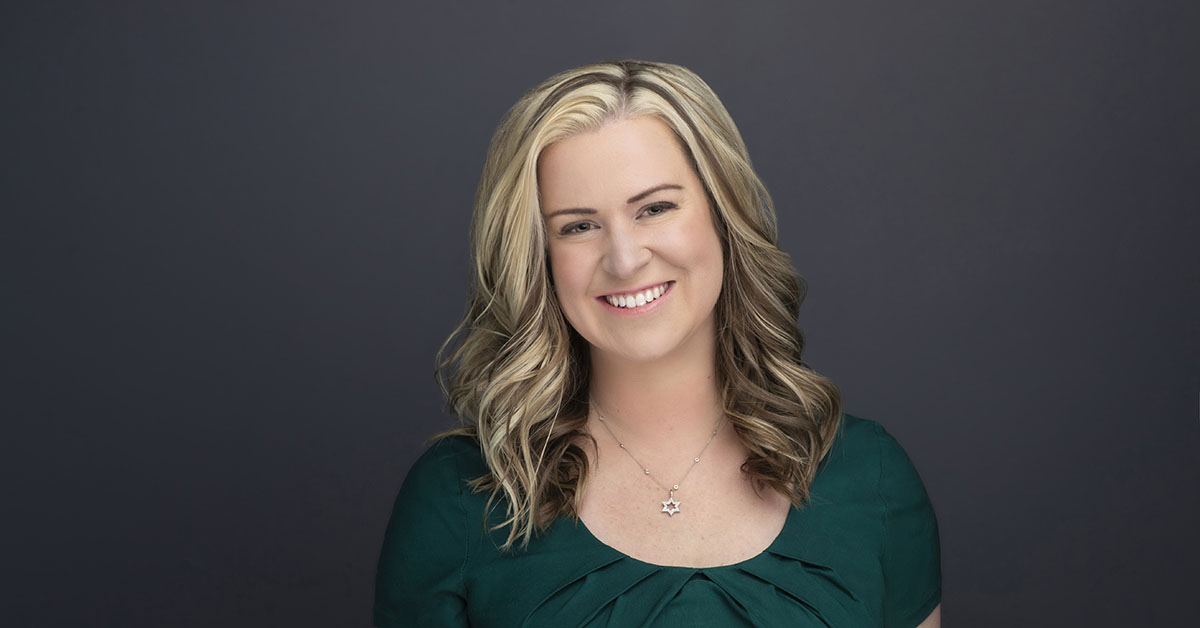 Southfield, Michigan tax attorney Chelsea Rebeck (Ellsworth Class, 2012) could see the handwriting on the wall as soon as the first news reports of the Covid-19 pandemic shutdowns started streaming in.
With stay-home orders affecting businesses everywhere, Rebeck saw instantly that the typical course of business would be anything but ordinary for a while as clients focused on the hurt that the pandemic was placing on them. In addition, with the IRS shut down, the usual work of the firm could not even get done or billed, so it was clear that the business plan would have to change – at least for a bit.

Just as quickly as she caught on to the depth and breadth of the situation, Rebeck discovered a way that she and her firm could help make things better. She studied the programs sprouting to assist those affected by the shutdown orders and got on board to help be part of the solution.

Diving into the particulars of the Small Business Administration and the PPP (Paycheck Protection Program) loans, Rebeck and her firm went to work helping clients navigate the system. They would eventually help over 500 non-profit organizations get over $700 million in aid payments to keep them going.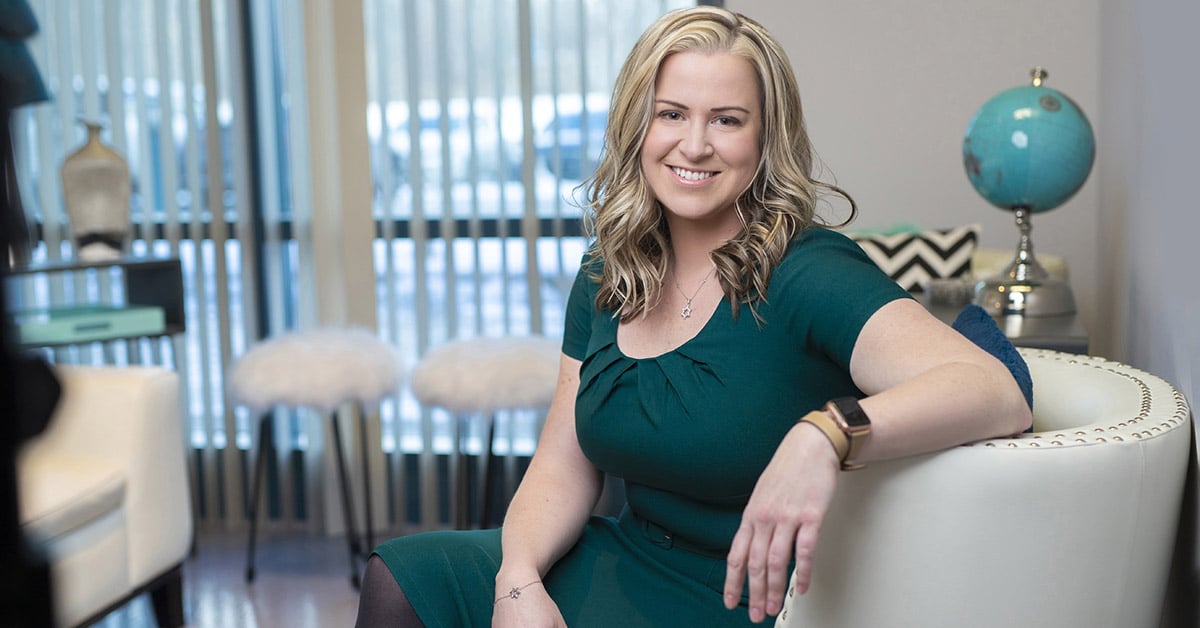 Pivot With Change
The key to this successful adaptation in practice, Rebeck said was the "ability to anticipate and pivot with change. Don't be afraid to change. Be innovative."

As the pandemic issues settle down and the aid programs wane, Rebeck can return her focus to her normal tax resolution work at Rebeck & Allen. She primarily guides high-asset individuals with planning and strategy for maximizing their finances. She also assists clients in such areas as tax controversy, tax preparer penalties, IRS audits, and tax advice. Rebeck also counsels U.S. taxpayers living abroad and international persons with U.S. entities. The firm provides expert witness services as well.

Rebeck, 38, has an edge when it comes to understanding the complexities of her job. She is a rare combination of being a Certified Public Accountant as well as holding a J.D. and an LL.M.

"I understand the accounting side of a lot of the tax cases," she explained. In addition, she said, the specialized knowledge she gained in her LL.M. studies has also proven invaluable. "People are impressed when you have a little extra."

The unusual combination of degrees isn't just for show. The practical knowledge learned in those degrees and the application of that knowledge in practice provides a solid foundation and it's clear clients appreciate the assistance.

In turn, Rebeck loves solving problems and getting to know the people she is helping.

"I love dealing with the clients. You meet so many great and interesting people. You get to help new people and they're grateful."

Rebeck started her firm in 2015 after serving as an auditor for the Department of Defense (DOD) for two years. She began taking on freelance legal work on the side, but soon grew so successful in her legal practice that she resigned from the DOD and began lawyering full-time.

In 2017, her best friend from her days at Cooley, Sara Allen (Hilligan Class, 2012), joined the firm and a partnership was born. Rebeck focuses on tax law, while Allen specializes in family law, and the business is thriving. Recently they expanded again, and the firm is moving into bigger quarters on the same floor they've been in. The firm includes two other attorneys, administrative staff, and interns.
LEADERSHIP WITH THE STATE BAR
As successful as she's been with clients and in business, Rebeck has been equally successful among her peers. She serves as the chair of the State Bar of Michigan's Representative Assembly, the final policy-making body of the State Bar responsible for changes to court rules, attorney licensing, bar dues, and other items that affect the work of lawyers in Michigan.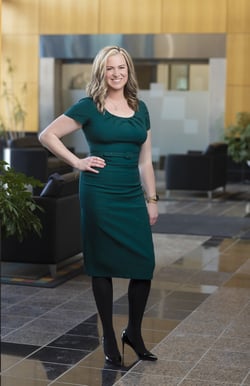 This prestigious position comes on the heels of Rebeck's star status as the first person ever to be nominated from the floor as clerk of the representative assembly back in 2018. There were two people running for the position as Rebeck and others sat in the audience watching the election proceed. Rebeck, who had been on committees with the assembly for years, found herself in conversation with a judge from the district court in Ferndale, Michigan. That talk inspired the judge to nominate Rebeck from the floor as a write-in candidate – and she won, setting herself on a path toward a subsequent position as vice-chair 2019-2020, and her current election as chair.

Rebeck, who says she just likes volunteering and helping, is involved in other law-related work as well. She is the incoming chair for the Oakland County Bar tax committee, where she can assist other attorneys in understanding changes in tax law and present on specialty areas. She also serves on the Commerce Township Planning Commission, the audit and finance committee for the Jewish Federation of Metro Detroit, and on the Diversity and Equity Inclusion Committee for the Supreme Court Administrators Office. New in her life, she is beginning work with the Washtenaw County Prosecutor's Corporate Crime Task Force, and running for the Oakland County seat for the State Bar of Michigan's Board of Commissioners.
Forging Path To Success
Rebeck's success is no surprise given her goal-driven history. Even from the early days of her university education, Rebeck has demonstrated her willingness and ability for forge the quickest path to success. She started her bachelor's degree at Baker, while working full-time. She then varied between Macomb and Oakland community colleges depending on who had the classes she needed right then, before earning her bachelor's degree at Baker.

She stayed employed full-time while at Cooley, which she praised as being the only law school that didn't have an issue with her working during her education.

"If it wasn't for Cooley, I couldn't have gone to law school," she recalled.

Even the birth of her daughter Brynn – during finals week in her third year of law school, didn't slow her down. She simply made a plan, took the final the following semester, and moved on. Rebeck's son, Devon, was born during her LL.M. studies.
Rebeck counts as one of her biggest victories, the firm's consistent growth, even when life proved to be more challenging than anyone ever dreamed of. Away from the office, her biggest victories include keeping up with Brynn, now 9, and Devon, now 7, along with the children's school and extra-curricular activities.