A big part of the WMU-Cooley Law School experience is community service and it often provides life-long lessons for students and for those they assist. But every March in Tampa, the table is turned and it's the students who get the assistance from the community. Again, the results can last a lifetime.
The event is called the Blue Jeans Brunch and it was the brainchild of former Assistant Dean and Associate Professor Karen Fultz, who left WMU-Cooley's Tampa campus for private practice. The idea was to celebrate Women's History Month by bringing women together — those at the beginning of their careers and those on their way to the top — to meet, mingle and share experiences, hopes and dreams. To make it a comfortable and relaxed event, Fultz decided the dress code would be blue jeans, and today the Blue Jeans Brunch has become a rite of spring.
Now in its third year, the sold out 2018 event was held March 10 at Ulele Restaurant and Brewery with more than 60 WMU-Cooley students and local business professionals and leaders who came together in a friendly, open and empowering afternoon of networking and relationship building. And they did it sans suits, in the comfort and class of their favorite blue jeans.
A speaker at the event, Fultz said the Blue Jeans Brunch remains as important to her today as it was the first time, even though she has passed the torch to others. It's all about women helping women aspire and achieve their goals.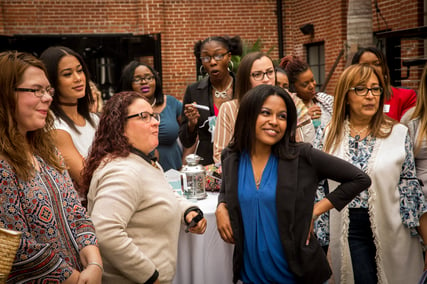 "The ultimate goal of every law student is to become employed after they take the bar, and the best way to do that is with relationships," said Fultz. "Relationships come from networking, and networking comes from events like the Blue Jeans Brunch."
But it's more than just meeting people, it's about forging friendships, and doing it in an environment that fosters a commitment to community and to fellow women. Whether a law school student or the head of a corporation, women who attend find they are among colleagues and peers with a common goal — a successful life for all. And this message is one that is making the Blue Jeans Brunch a premier event in Tampa.
Tampa Campus Director Dionnie Wynter, herself a 2005 WMU-Cooley Lansing graduate, has accepted the torch to keep the Blue Jeans Brunch torch burning bright going forward. When Fultz departed, Wynter said she felt compelled to continue the event for the young women coming up at WMU-Cooley.
"I felt a tremendous responsibility to make sure I carried this torch on and I was joined in that endeavor by a lot of young women who really wanted to be a part of the Blue Jeans Brunch," she said. "The idea of blue jeans is because when you throw on a pair of blue jeans, you are at your most comfortable. So, it's important to be in an environment, women only, in our blue jeans, to experience this.
Two of the young WMU-Cooley women who joined Wynter in planning the Blue Jeans Brunch were Ashley Hart, a third-year student and second-year student A'lsha Muhsin. Both wanted to be a part of something bigger than themselves, something that offered a benefit to each person no matter where they were in their life and career. It's simply about women, helping, guiding, and giving to each other so that together, all women become empowered.
For Hart, a small-town Florida gal who is the first in her family to graduate college, let alone attend law school, it was a chance to share and learn from each other, about each other.
"My vision was to get everyone together, to interact and to tell stories because everyone's story is different."
Mushin also volunteered because she saw it as an opportunity to thank Fultz, her former torts professor, and to make sure women of color were represented at the event. In retrospect, she said the afternoon, "Exceeded my expectations."
Looking back on the experience, Mushin said she has a message she would like to share with all women.
"Don't try to compete; instead be able to build a relationship with others, to learn from one another and to take that relationship and use it because this is a sisterhood! Sometimes we look at others like our competitors and we build a wall. We need to shut that wall down."