Ana Luna: Life experience is her ROCK to success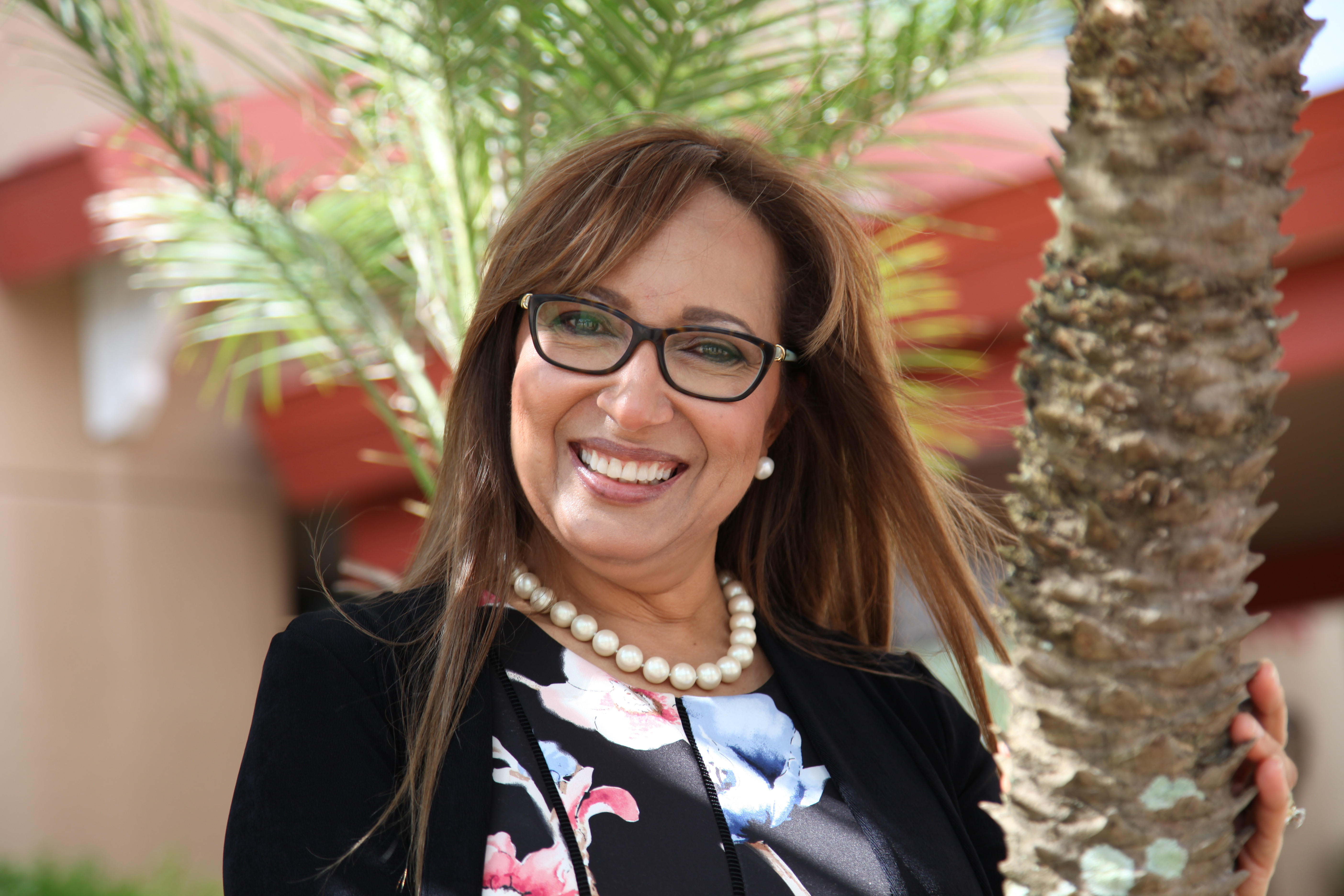 When Ana Luna thinks back on her life, and the suffering she endured, she realizes that it was those life experiences that led her to law school and her life today.
Luna was inspired by her mother from a young age to be a believer, and became very involved in doing good for her church and community. She helped others throughout her childhood and teenage years, and even considered becoming a nun. Had it not been for the fact that she was an only child she may have followed that path, but instead she made the decision to attend college in the Dominican Republic to become an economist. It was during her time there when she met her first husband, a professor at the school.
After marrying, she and her husband, with two children at the time, headed to the United States to pursue the American dream. Not much later, another child arrived. Luna's mother also lived with the family. Although the marriage lasted 19 years, it wasn't a happy time. Luna, along with her mother and children suffered the abuse of her first husband. Unfortunately, the culture from which they came taught submissive behavior to women and children.
Dark days see the light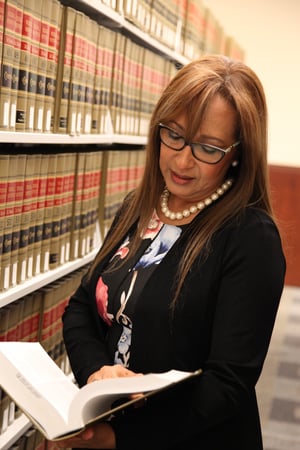 "Those were dark areas in my life, and it affected me in so many ways," recalled Luna. "I was here in Florida when the last incidence of violence happened in my life. I remember waking up in the hospital, looking up at the ceiling, and saying, 'God, this is not the life that I want to live; that I deserve.' I knew that I needed the strength and courage to stop this suffering.
"I remember when I finally said no more, I felt like a butterfly in the cocoon, trapped with no wings, but then finally breaking through and finding my wings to fly!"
That decision was an epiphany for Luna. She now knew what she was meant to do. She wanted to help other victims of domestic violence find their wings. But that also meant she needed to get educated. She went on to earn a bachelor's degree in Psychology from the University of South Florida.
"All my experiences have motivated me to fulfill my dream of helping others," explained Luna. "I think no one can stop you from reaching your dreams and your goals; it only means you have to fight and work harder to do it."
After earning her Psychology degree, Luna knew there was more she could do if she had a law degree. She knew because she saw firsthand, working for a law firm for eight years, the positive impact an attorney can make on the lives of others. Working for that law firm also introduced Luna to her husband today, an attorney and very supportive husband.
"Being married to an attorney gave me the power to take control over my life," shared Luna. "I knew that my ex-husband couldn't come after me any more. In fact I felt like I had two lawyers to protect me, my husband, and God! It gave me a great sense of security, which I never had before. My ex-husband made me feel very insecure because he controlled my life. He made me believe that I was nothing without him.
Become educated

"I think it's very important for everyone to become educated and knowledgeable. I am not alone. There are many other women who suffer from domestic violence, or those that don't believe in themselves. I tell them to believe in education, because it's through education that you hold the key to open doors.

"To become a lawyer on my journey, was very important. But while many doors were closed, Cooley Law Schoolopened the door for me. I am so happy and grateful to be a part of the Cooley family. I love the diversity here. There are so many resources, and the professors are always willing to talk to me. It's very motivating. When I started law school, I used the ARC (Academic Resource Center) to develop my skills when doing multiple choice and essay tests. It made the difference between being a C student and becoming an A student."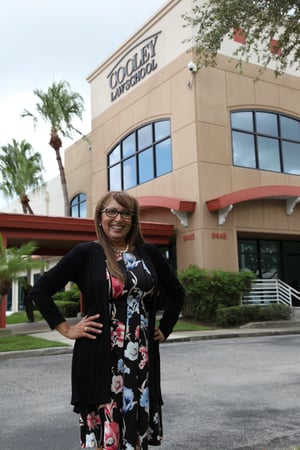 As an immigrant, where English is not her first language, Luna knows how powerful it is to be an attorney helping others like her. In fact, she believes knowing multiple languages is an invaluable skill for attorneys. She's seen it every day in the law firm where she works.
"It's very powerful when you can speak many languages," says Luna, "And not just two, but as many as possible because you are a much better advocate for others when they know they are understood and heard. When people can identify with you because you can talk about common experiences, whether it's through a life experience or cultural experiences, you can sometimes be a better example and advocate.

"I see minority communities growing. Even at Cooley, I see the growth. There are people from all over, and different countries studying law. Our impact is going to be felt in the not too distant future. We will be the majority, rather than the minority."

Luna helps her community in many ways. She is a radio show host, a mentor to groups in churches, and an advocate for families. She tells them often, "You have to believe; you have to be strong; and you have to have the power in you to fight for your dreams."
She is one to take her own advice. And the advice of her husband.
"On my first day of law school I remember my husband telling me that law school is different than undergrad and you must be prepared every day," said Luna. "I remember I was very nervous, mostly because I watched The Paper Chase and that was what I was expecting. I prepared my cases, and for everything. I was sitting in a class of 100 students or more, expecting to be called on. I was never was called upon.
"I found the professors were much different from that professor in a movie. I learned something very important that day, not only in school, but in life. I told myself, 'You should be prepared because preparedness defeats poor performance, but you don't have to wait for the professor to call on you. Participate and raise your hand, and be able to engage in your class. Enjoy it!' And that is what I have done for the past three years."
Like a rock
Luna has climbed her rock to success. In fact being a ROCK is her daily mantra.
R – Stands for RESPECT. You have to respect yourself, and you have to respect others to succeed.

O – Stands for ORGANIZATION. You have to be organized in your life and your studies, especially in law school. It needs to be a "special land." When you are in law school, you are in "law land" so your family knows you are preparing for classes and studying for exams. The phone is off. The internet is off. The room is a safe haven from everybody and everything. Prioritize your life.

C – Stands for COMMITMENT. You must be committed to your priorities.

K – Stands for KNOWLEDGE. Knowledge is very important to find success. Reading and being educated is your ROCK to success.
On the horizon
With a graduation date on the horizon in December of 2019, Luna is looking ahead to the day she will officially be an attorney.

"I am looking forward to finishing law school and passing the bar exam," shared Luna. "Once I have my license I will be in a better position to really help woman and families as their advocate. There's nothing more joyful than to see the smiles on the faces of those we have helped. When we get them through a legal immigration process and help them get their papers to live in the United States, they are so happy and grateful."
Graduation is one dream Luna will realize in 2019, but this year she realized a 27-year long dream - that of becoming a U.S. citizen!
"Becoming a U.S. citizen had been my biggest dream," smiled Luna broadly. "I am very grateful and thank God every day. I also want to thank my Con Law professor Brendan Beery. When I started my first Con Law class he told me, 'If you don't know anything about Constitutional Law, I am going to suggest you do something. Go to the website USCIS, and print out all those questions. That will help you to know a little bit more about our Constitution here.' And that is what I did. I printed out all 100 questions. They each came with an explanation. That was extremely helpful, and it was that suggestion that ultimately helped me to pass with 100 percent! This is my U.S. citizenship certificate. I am so proud, after 27 years of waiting, I have realized my biggest dream - being a U.S. citizen, Ana Luna. Thank you, God."