Less than a decade out of Western Michigan University Cooley Law School, Amber Cervantez is finding her way, making her mark as an attorney, and as an advocate for other up-and-coming Hispanic lawyers as well.
But her path wasn't always so well-planned as it is today. In 2009, when Cervantez graduated magna cum laude from Mercyhurst College in Erie, Pennsylvania, with a criminal justice degree, she found the recession impacted not only business hiring, but law enforcement as well. With no prospects ahead for her original plan to be a police officer, Cervantez decided law school might be a viable option.
"I really didn't plan it, but I decided law school was close to criminal justice so I made the decision to apply," she recalled. "But I didn't know there were so many different kinds of law."
Cervantez was accepted at WMU-Cooley and attended their Auburn Hills campus, graduating in 2012. During her years in law school, Cervantez got her feet wet serving as the law clerk for Williams, Williams, Rattner and Plunket. She also interned for Macomb County Circuit Judge Mark Switalski, Oakland County Circuit Judge James Alexander, and attorney Michael Lee.
Owning it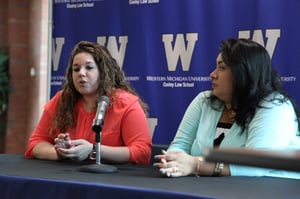 While completing an externship in law school, she began to "own" her racial diversity and realized she had an obligation to be someone other young Hispanic lawyers could respect and regard as a role model.
"Michael Lee taught me that I had to embrace being a female Hispanic attorney and use it to help others like me," Cervantez said. "Now I own it!"
After graduating and passing the bar, Cervantez was anxious to get her career going, and with the recession still influencing the economy she accepted the first job offer that came her way. Shortly after, she was offered a position with one of the members she knew from the Hispanic Bar Association of Michigan who had his own firm. As she grew as an attorney, she also began to accept that to set a good example she would be expected to do more than her day-to-day routine.
Stepping up
Today, Cervantez is president of the Hispanic Bar Association of Michigan and is finding just how important it can be to step up and accept responsibility on behalf of her fellow Hispanic attorneys and law students.
For example, in 2017 Cervantez was asked by U.S. Senator Debbie Stabenow to serve as a member of the Eastern District of Michigan Judicial Advisory Committee tasked with preparing recommendations for consideration by the White House when appointing federal judges to fill vacant seats. In 2016 she was named one of Michigan Lawyers Weekly's Up & Coming Lawyers, an honor recognizing "legal practitioners who are establishing a name for themselves, go above and beyond, and display the ambition, drive, determination and accomplishments that set them apart among their peers — in their first 10 years in practice."
Cervantez and fellow WMU-Cooley graduate Esmeralda Perez recently reflected on being Hispanic women and legal activism at a forum held at the law school's Lansing campus. Cervantez is also a member of the Oakland Country Bar Association and Detroit Bar Association.

Getting and giving
Now a Shareholder in the Oak Park, Michigan firm Hewson & Van Hellemont P.C., Cervantez says she is lucky to work with so many outstanding attorneys and to be able to learn from them. One of those attorneys Cervantez is especially grateful to is Partner Elaine M. Sawyer, who practices in the area of insurance defense, like Cervantez. Sawyer is a 1997 graduate of WMU-Cooley and someone Cervantez says is a role model and one of the firm's "very strong female attorneys."
"(Sawyer) is super smart and leads with her actions. She is a successful, experienced trial attorney who has taught me the right way to practice law and try a case," said Cervantez. "Her expectations are high, but you know you're doing all right when she keeps giving you work. I couldn't ask for a better teacher and mentor."
As she learns from those before her, Cervantez also has advice for Hispanic law students trying to find their way. One key thing is getting out and meeting people, rather than just hitting the books and getting good grades.
"Networking is so important, and I don't think law students do it enough," said Cervantez. "When I was in law school, I skipped class if I had to so I could attend networking events I thought were important to my career. I'm not saying students should skip class, but they need to take the initiative to network as often as possible."
Overall, Cervantez says her law degree turned out to be a very good idea and she encourages anyone with the drive to consider it as well.
"Law is so valuable. Even if you don't practice, you're 10 steps ahead of everyone else."