Kara Hope: Talking – and especially listening – key to success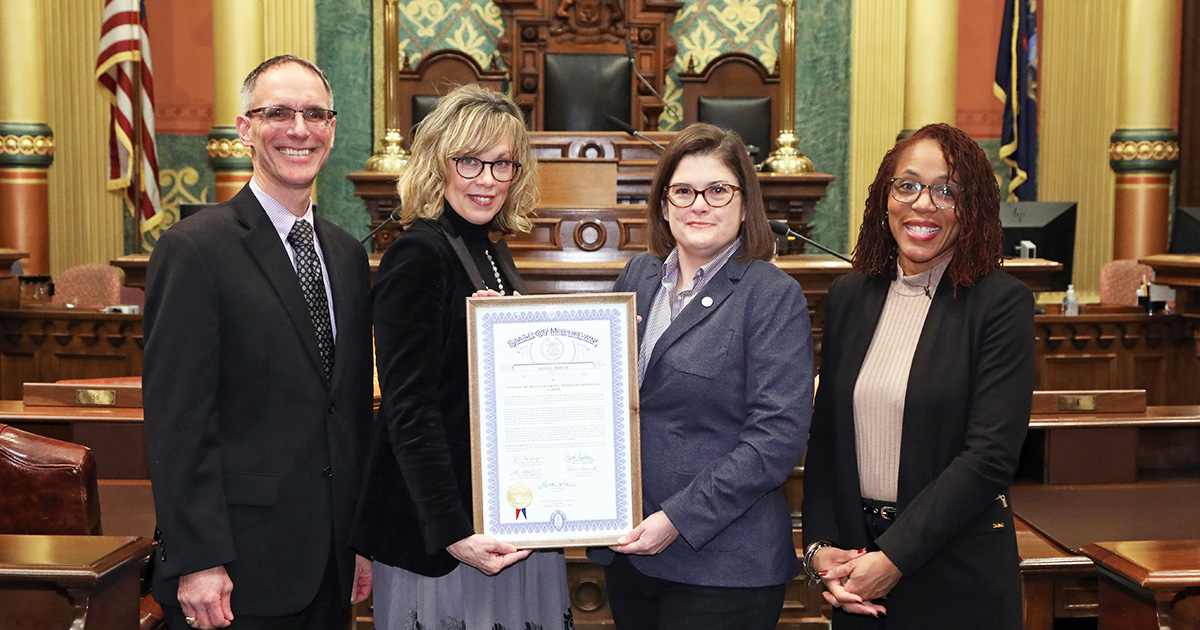 Kara (Henigan) Hope has come a long way since that fateful day when she was called upon to stand and recite in the late Professor Peter Jason's Contracts I class. An introvert by nature, Kara was beyond nervous as she responded, but she learned something important about herself that day – she could do it.
The not-so-secret trick, she explained, is preparation.
Today, Hope (Swainson Class, 2003) has gone from a nervous first-year law student to a confident leader in state government in Michigan. Just under a decade ago, Hope joined a 50-year tradition of WMU-Cooley graduates giving back to their communities through elected office.
In 2013, Hope was first elected to office as a member of the Ingham County Board of Commissioners n mid-Michigan. She served in that capacity until 2018 when she was elected to the State House of Representatives. Now in her third term, Hope recently completed a successful campaign in a vastly different district, thanks to statewide redistricting.

It was a whole new experience, knocking on doors she hadn't been to before as she campaigned for the position. Hope is skilled at adapting to new experiences, however. After graduating Phi Beta Kappa from Michigan State University in 1997, Hope joined the Ionia Sentinel Standard as a newspaper reporter. In
that role, she experienced a close-up look at government, local politics and courts and was inspired to get a law degree from WMU-Cooley.


IMPROVING LIVES OF OTHERS
"As a journalist, I reported on the lives of others. As an attorney, I would be able to more directly help improve the lives of others," she said.
Hope graduated 10th in her class, then went to work for the Michigan Court of Appeals where she reviewed appeals and prepared reports on pending cases for the court. She also worked for a litigation firm for about a year before life took another turn.

Four months after Kara married her husband Evan Hope in 2006, the young couple took on the full-time care of Kara's niece and nephew, then 8 and 3. Casting about for a way to combine her fledgling law career with her instant parenting role, Hope talked with her former Advanced Writing instructor at WMU-Cooley, Distinguished Professor Emeritus Joseph Kimble. She soon found herself serving as an adjunct faculty member at the law school, a role she would continue for six years.

In 2012, Hope was catapulted into an entirely new experience when a local political issue erupted and she became involved.

"I've always been interested in current events and the world around me," she noted. "There was a ballot issue, a bond proposal that would have paid for the construction of a solar-powered sludge dryer. It was a minor thing that blew up."
Hope said she found herself out of her comfort zone, showing up on people's doorsteps to discuss the issue. Not long after, Hope challenged an incumbent who'd been on the other side of the issue, and she won the seat.
Hope said she loved serving on the county commission, but in 2018, the state representative serving her area was term-limited and a strong candidate was needed to fill the seat.
SERVING THE JUDICIARY
Hope won the election that year, and again in 2020, and now 2022. Hope serves on the House Judiciary Committee, an assignment she loves due to the variety of legislation they see and the opportunity to make a positive impact.
Hope, along with fellow legislator Sarah Anthony and the Michigan Attorney General's Office, made a huge positive impact in 2022 with the first-ever Expungement Fair. In the wake of the new Clean Slate law in Michigan, the opportunities for people to get convictions erased from their record has increased. For many people with minor offenses getting in the way of employment, housing and other areas, the legislation has been a godsend.

"This has been affecting real people in real time," Hope said. At the expungement fair, volunteer lawyers helped some 85 people get the paperwork started for getting their convictions expunged. The variety of applicants was stunning, Hope recalled. "We saw elderly people, moms with kids in tow – it was eye opening." The organizers paired with WMU-Cooley, which hosted the fair. "We hope to make this an annual event," she said.
It's clear that Hope has grown in confidence since those first days in law school. "I was actually shaking" during that first recitation in class, she recalled. "Now I can speak to the full legislature. If I have a mission, I can talk in front of people," she said.
Hope is living proof that strong, successful leaders come in a variety of personalities. "A huge asset of being an introvert is that I am a really good listener," she explained.

As time went on, Hope learned that the more she talked with people, the easier it became.
Hope makes herself available to constituents at public events and at her office. Hope and her staff answer phone queries and letters, responding to a wide variety of concerns – from unemployment claim issues during the pandemic to kids' concerns about school safety, they hear it all.

Talking – and especially listening – has been the key to success for this leader in state government.
[Photo caption at top, from left: Bill Arnold, Director of Advancement and Alumni Relations; Tonya Krause-Phelan, Associate Dean of Academics & Professor; Kara Hope, Michigan State Representative; and Tracey Brame, Associate Dean of Experiential Learning and Practice Preparation, & Professor]