Zaneta Adams: Disabled Iraqi War veteran gives back to veterans in law career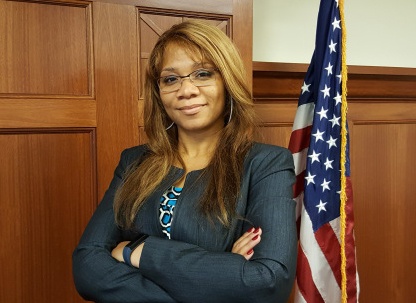 This blog was originally posted January 27, 2017.
Cooley, as a certified veteran-friendly school, talks to its military students, faculty and graduates about their journey from the military to law school and about their career goals. January 2017's feature is Cooley graduate Zaneta Adams, a U.S. Army Retired PFC. She served eight years in the military, including her time with the U.S. Army National Guard, the Army Reserves, and Active Duty. After being severely injured during active duty, she made it her purpose to get a legal degree and serve so her fellow brothers and sisters could get the veteran benefits they deserve.
Military rank and title: U.S. Army Retired PFC
Why did you decide to go to law school: I decided to go to law school because I wanted to right injustices and help veterans fight for their VA benefits. I made the decision to attend Cooley because of its amazing scholarship programs, the fact that it is a yellow ribbon school (which saved me money), and its ideal location close to my home and work.
Tell us about your military experience: I went into the Army because I loved the values that the Army had and I thought it would make me a better person. I also wanted to give back and be of service to my country. I started in the Army when I was a junior in college. I served eight years between my time with the U.S. Army National Guard, the Army Reserves, and Active Duty.
Career and future goals: I represent and do all my law-related duties at Williams Hughes Law firm in Muskegon, Michigan. My responsibilities include prosecuting and defending criminal cases, handling Family Law cases, processing Department of Veterans Affairs' claims and appeals for veterans, and interviewing clients. My sincere hope is to educate, assist, and help veterans get their well-deserved benefits. I want to make Michigan the number one state where veterans receive their benefits. In addition, I work as a contractor with the Michigan Attorney General's Office doing OKAY-2-SAY school and community presentations to help raise awareness of cyber bullying, child pornography, sexting, and cyber safety. My ultimate aspiration is to one day be a Michigan or U.S. Supreme Court Justice.
Tell us a little about you: I have been married for 18 years and have six children (two sets of twins). I am a disabled Iraqi War veteran (served in support of the war) who was severely injured after falling 10-11 feet from a deuce and half truck. At the time, I never would have imagined after my injury that I would have been able to successfully complete law school and serve my fellow brothers and sisters in arms in this way. Cooley people were patient, understanding, and very accommodating to the things I personally needed to succeed. One thing they gave me was the confidence in my own abilities. They encouraged me and let me know that my physical injury was not a barrier to law school given my sharp mind and my commitment and conviction to succeed in law school and in my career.