This story on the Opioid Crisis is reprinted with permission by Michigan Lawyers Weekly and author Thomas Franz. The story originally published in the Feb. 21, 2018 issue of Michigan Lawyers Weekly.
Ashton Marr had a perfectly normal childhood as a good student and an active Girl Scout in Ann Arbor.
As high school came along, Marr became increasingly anxious about her place in the world. That led to experimenting with a variety of substances to alleviate that anxiousness, but an emergency appendectomy at age 19 led her to become truly addicted to opioid-based pain medication.
Marr said she eventually wound up addicted to heroin, and was 30 pounds lighter than what she is today.
She said the addiction didn't grow because of the length of time she needed pain relievers following her appendectomy, but it was due to the way the substances made her feel.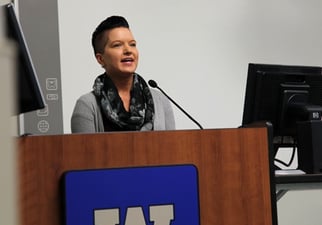 "It was the way I felt on it. I forgot all of my worries at the time and I didn't have any other coping skills," Marr said. "I never really told anyone, I was ashamed because I thought I would be like everyone else. I acted like everything was fine."
On June 23, 2013, she made what she called the most difficult phone call of her life, to the local treatment center, and then to her father to ask for a ride there that day.
"I just remember being so tired, beyond anything I've felt in my life. I was already experiencing some withdrawal symptoms when I called," Marr said.
The treatment center had a bed available for her.
"My dad gave me a ride, but he didn't know where we were going, I was so ashamed of the stigma that goes along with addiction," Marr said. "We got there, he put things together, and he said this was the bravest thing he's ever seen anyone do, do the best you can and we'll figure the rest out."
Marr was one of several speakers at a Feb. 15 conference titled "The Opioid Epidemic: Finding Solutions to a Public Health Emergency" at Western Michigan University Cooley Law School's Lansing campus.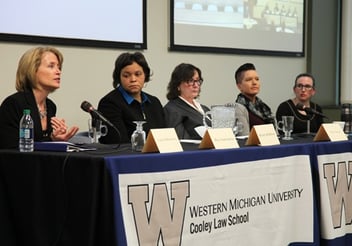 The event set out to explain what governments are doing about the opioid crisis, and how the epidemic is impacting communities. Some participants spoke to Michigan Lawyers Weekly in phone interviews.
Marr, who is now 32, went through treatment and transitional housing, and eventually got a job with the Washtenaw County Sheriff's Office as an outreach worker to help other individuals struggling with addiction.
She is now a social work student at Eastern Michigan University and a program manager of the Washtenaw Recovery Advocacy Project at Home of New Vision.
She is considered to be in "long-term recovery" from opioid use disorder, and hasn't had a drink or taken a drug in more than five years.
"I just love being able to show the world that we can and do get better, it's not a hopeless condition," Marr said.
Judge Linda Davis of the 41B District Court is president of Families Against Narcotics (FAN) and also chairs Gov. Rick Snyder's Prescription Drug and Opioid Abuse Commission.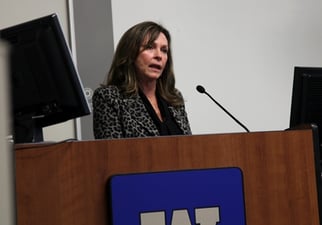 Davis, a drug court judge, also spoke at the WMU-Cooley event.
"I deal with this every day of my life," Davis said. "I'll have as many as 45-55 people in my drug court at a time that we're offering help to. We've had incredible success with it."
Davis' FAN group started its "Hope, not Handcuffs" program in 2017 in Macomb County, and already has 850 individuals participating across 20 chapters.
"The biggest reason I think we've been so successful is we're a trusted entity in Michigan for being proactive and supporting people that are going through addiction rather than judging them," Davis said. "The recovery community is probably one of the tightest knit communities that I've ever worked in. My opinion is no one wants to be an addict, so when true help is offered, and it's not judgmental and you're trying to do the right thing for the right reasons, I just think that spreads."
Davis has made several trips to Washington D.C. to work with federal officials on the opioid crisis, but she said more action is needed to combat the epidemic.
"For every day we delay in getting really good treatment up and running, we lose another 100-200 people a day," Davis said. "We would never let any other disease run like this without tons of resources being thrown at it. Think about our reaction to H1N1 or the Ebola virus, which no one in the U.S. even died from, we're doing knee-jerk reactions to what's going on with this epidemic and we need to put the resources in it."
Lauren Rousseau, a WMU-Cooley law professor and president of the Northwest Wayne Chapter of FAN, was also a speaker at the event. She said events like the one WMU-Cooley hosted are important so that people can hear personal stories like Marr's to eliminate stigma.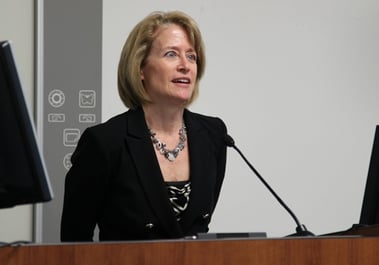 "The more people you reach, you get an understanding of the issues involved and you recognize this is a mental health issue as opposed to a moral failing," Rousseau said. "I think that will get the ball moving in terms of improving policy approaches and improving the community approach to people struggling with addiction. I think you motivate people to get involved and make a difference themselves."
Marr, who said reform for responsible prescribing practices by doctors is needed, also said that eliminating stigma is key to battling the opioid crisis.
"Stigma absolutely contributes to the many lives lost each year when people feel like they can't reach out for help. We beat ourselves up worse than anyone possibly can," Marr said. "Nobody wants to grow up to become addicted. Being able to reach out for help and to feel comfortable doing that is crucial. Part of the way to do that is to normalize recovery and show people that we do get better."