Tips For Making A Presentation
Lawyers are trained to be expert communicators. Yet speaking before a group can be an intimidating prospect for some, whether it's a civic club luncheon, trade association meeting, or bar association CLE program. Rejoice if you are invited to make a speaking presentation, as there are many ways it can benefit your practice. Here are some tips for making your presentation an effective and impressive one.

First Steps
Among your first steps should be to find out exactly what your assignment is (to lecture or to moderate, for example), what you should cover, what limitations may apply, and what facilities are available to aid you in delivering your presentation.

Some groups discourage reading a presentation. If you must do it, prepare by reading your presentation aloud several times to get your timing down, eliminate tongue twisters, and mark natural pauses. The more often you do this, the less often you will have to look down at your text—or worse, stumble over phrasing.

At the same time, give thought to ways that gestures and movement can be used to add interest and variety to your presentation. It takes practice to appear spontaneous. And if you intend to inject humor into your presentation, be sure to build in pauses to avoid treading on your laugh lines.

Run your presentation through Word's readability program. Chop up complex and compound sentences and replace long words until you can bring it in at a ninth- or tenth-grade reading level. See Using Microsoft Word's Readability Program. In addition, the Writer's Diet fitness test can assess whether your sentences are flabby or fit and offer suggestions for improvement. (This article is rated at the tenth grade reading level, with sentences assessed as "fit & trim.")

Do not allow yourself to be caught in a situation where you have to rush through your remarks. Identify some paragraphs that you can drop if a previous speaker hogs part of your allocated time. Another technique, if you have reached your allotted time, is to have a short bibliography ready to display that the audience can refer to for the remainder of your topic.

Audiences expect PowerPoint slides. Take them on a thumb drive, but bring your own laptop or iPad, power cord, and cables just in case some piece of equipment is missing or malfunctioning. An additional safeguard against loss is to email your slides to yourself. If you will be using a laptop, make sure that the lectern has space for both it and your text or notes.

Stop by the room where you will be speaking beforehand to check out the audio system and projector. In several of my recent presentations, some glitch needed attention (missing cable, dead remote control, lighting problem, network log-in difficulty).
Silence Please
Do not begin your presentation until the room is totally silent. Trying to talk over back-row chatter is a losing proposition. Once you have started talking, nothing short of shooting off a gun will quiet a noisy audience.

Afterward, if your presentation is of a scholarly nature, consider posting it as a working paper on the Social Science Research Network (SSRN), an open-access, Google-searchable repository. See "Do You SSRN?" for instructions.

The successful presenter is not only an effective transmitter of knowledge, but also an impressive communicator. When invited to make a presentation, seize the opportunity with confidence and be that person.
---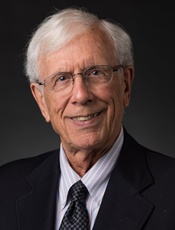 Otto Stockmeyer is a Distinguished Professor Emeritus at Cooley Law School. He has made presentations to the ABA General Practice Section, Michigan Judicial Institute, Michigan Supreme Court Historical Society, Michigan Academy of Science, Arts & Letters, and the International Conference on Contracts, as well as to several bar associations. This blog post is adapted from his article in the October 2013 issue of BRIEFS, published by the Ingham County Bar Association. Professor Stockmeyer's previous blog posts are cataloged here.