The Flint water crisis is now in the fourth year as slowly but surely, old, lead-laden water lines are replaced across the city. Looking back to April 2014 when the city switched from the city of Detroit's water system to using water from the Flint River, it's easy to see how circumstances and decisions conspired to create the disaster. Back then, though, no one saw it coming until it was too late. That's what they call a "black swan" event.
Calling a swan and swan
According to Wikipedia, "The black swan theory or theory of black swan events is a metaphor that describes an event that comes as a surprise, has a major effect, and is often inappropriately rationalized after the fact with the benefit of hindsight." Incidents like September 11 and the start of WWI are often considered black swan events.
Retired Brig. Gen. Michael McDaniel knows a black swan when he sees one. The creator and director of WMU-Cooley Law School's Homeland and National Security Law LL.M. program, his experience in the realm of catastrophe is extraordinary. Before joining WMU-Cooley, McDaniel was deputy assistant secretary for homeland defense strategy, prevention and mission assurance at the Department of Defense. In 2003, he was also homeland security advisor to former Gov. Jennifer Granholm, has been the chairperson for the Great Lakes Hazard Coalition (GLHC) since 2012, served as the Michigan National Guard's assistant adjutant general for homeland security, and has been on the board of directors for The Infrastructure Security Partnership (TISP) since December 2012, ramping up national infrastructure security and resiliency planning.
It's no wonder then that in 2016, when the Flint water crisis was really heating up, Gov. Rick Snyder appointed McDaniel to the Flint Water Interagency Coordinating Committee (FWICC). When he was also asked by Flint's new Mayor Karen Weaver to be the liaison between her office and the state, the gears of change started turning. McDaniel was in his element.
Lessons from the trenches
Recently, McDaniel was recorded for the series "Viewpoints: Conversations with Homeland Security Leaders" at The Center for Homeland Defense & Security, in a video titled "Leading Through Chaos." In the video, McDaniel revealed what it was like in the heat of the battle in Flint, how he helped to find solutions and ultimately kept people on track to end the years-long debacle.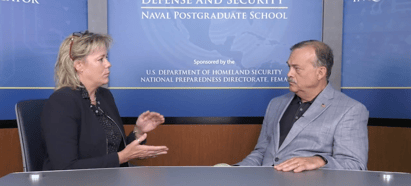 In his own understanding of Black Swan events, McDaniel says the Flint crisis should have been obvious but in fact was completely unseen, until the unthinkable happened.
"When we say (Flint) is a Black Swan event, it's one of those things that should have been expected but was completely unexpected," he said. "One study says around 5,300 cities in the United States have similarly high levels of lead, levels above 15 parts per billion, in at least 10 percent of the homes on a municipal water system. There's about 50,000 municipal water systems in the U.S. so about 10 percent of them are at risk. That's a huge proportion that we should be concerned about as well."
But the lead wasn't in the water at such high levels until a cluster of seemingly unrelated events conspired to cause the disaster. The switch from Detroit water to more corrosive Flint River water brought about the deterioration of a protective layer within old lead pipes to the point that lead was corroding into the water that was traveling to Flint homes and businesses. At the same time, city employees tasked with treating the water did not add the necessary phosphates to eliminate the corrosion of lead or the rust that was built up in old iron plumbing.
The big picture
From his perspective, McDaniel says our lack of attention to our infrastructure is at the very root of water quality problems, in Flint, across Michigan, and nationwide.
"We as leaders keep saying 'We'll deal with that tomorrow, kick that can down the road, we have more immediate needs,'" McDaniel said. "We don't want to spend money on prevention, but we'll spend the federal government's money on response and that's what happened in Flint. We'll take the risk as long as we can, but if the risk is never fully identified, you aren't able to be prepared, obviously."
Specifically, McDaniel sees the problem as one of awareness, sort of a head-in-the-sand mentality that says if it doesn't look broken, don't fix it. When it comes to infrastructure like water systems however, Benjamin Franklin said it best in his axiom, "An ounce of prevention is worth a pound of cure."
"At the Army War College, we always preach about what the effects of our courses of action are," said McDaniel. "But we don't think 'What are the secondary effects of our courses of inaction.' That's what we need to educate our leadership on, and I don't think we are doing that."
Best practices pay
Like the lead pipes, Flint citizens' trust of state and federal government was and remains terribly eroded. But McDaniel made sure at least he was able to build trust with the Mayor's office by being open, honest and available. One of the first things he did was to partner with the media to create a conduit for public information.
"You can never be defensive, you always have to be open. I'd get calls from the press on my personal phone and I'd take those calls any time of the day or night. You have to be fully engaged with them because they are explaining what's happening out in the community, what we are doing and if something is not happening, why?"
McDaniel also made a point of providing the residents with a means of communicating by setting up a website and phone number for people to ask questions or complain. Even the most seemingly minor complaint was responded to immediately because, said McDaniel, "You're trying to rebuild that trust."
He also teamed with community groups and neighborhood organizations, pastors, who he calls "the centers of gravity within the community," and even construction contractors so that everyone was on the same page and each step was well coordinated.
Most importantly, at least for the people of Flint, is the success of the Fast Start Initiative coordinated by McDaniel. Through his dogged attention to both the symptoms and the cure he was able to secure $100 million in federal funding from Congress to replace the pipes serving more than 29,000 homes. Work began in earnest in 2016 and continues today, thanks in large part to one good man on a mission.