Student Profile: Scholarship winner stays true to her longtime dream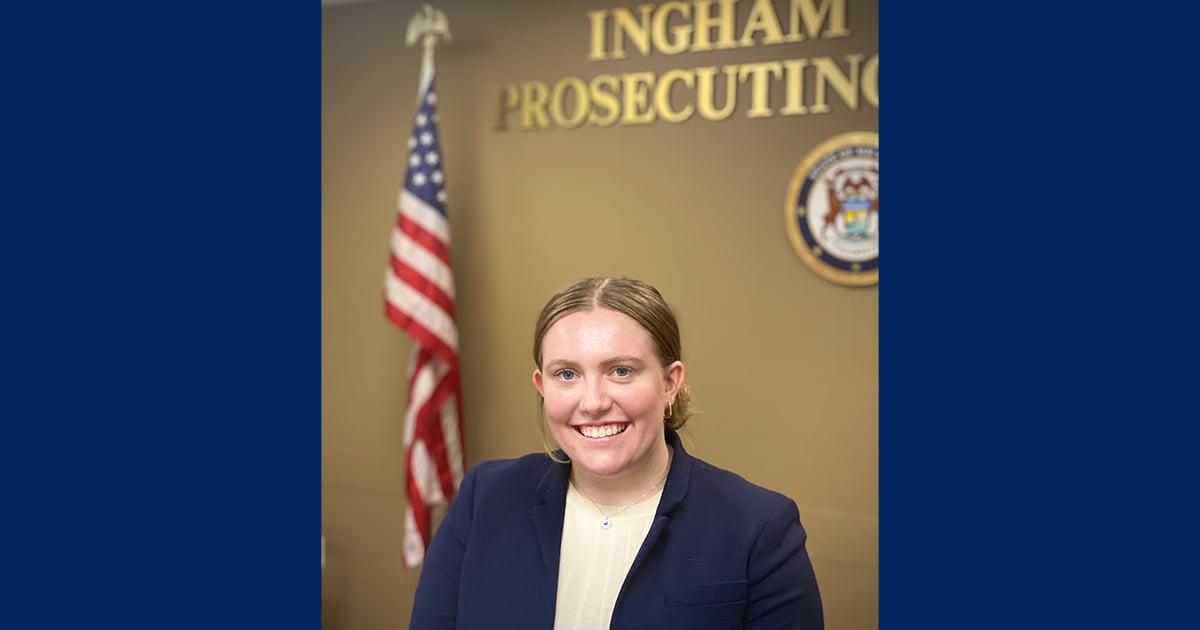 Riley Stheiner dreamed of becoming a lawyer as early as seventh grade, but after finishing her undergrad degree in legal studies and criminal justice from Grand Valley State University, she had second thoughts.
"I wasn't sure if law school was for me and I struggled to push myself to take the LSAT," she says. "I've always had an interest in the law and I dreamed about being a lawyer in the criminal law world. I for a long time was considering other jobs in criminal justice. It was something I felt passionate and interested in which always made studying and taking the required courses enjoyable.
"During COVID and when the stay-at-home order happened, I was laid off from my job. I was at a crossroads as to whether I wanted to attend law school or pursue another degree in criminal justice. Ultimately, I decided to stay true to my longtime dream of pursuing a J.D."
A TASTE OF LEGAL LIFE
Stheiner had a taste of the legal life while in undergrad, spending 14 months as a legal assistant at Stenger & Stenger PC in Grand Rapids, where her duties included assisting attorneys by generating second summons, default judgments, dismissals, and satisfaction of judgment, among other tasks.
"I learned so many soft skills through working full time as a legal assistant before starting law school, becoming familiar with the filing processes at different Michigan courts, and getting valuable experience," she says.
She also interned for the City of Grand Rapids Attorney's Office, researching and summarizing cases in support of civil litigation and municipal affairs; editing and proof-reading legal documents; and participating in voir dire at 61st District Court.
"This internship gave me a lot of direct exposure to municipal legal matters," she says. "I was given a number of research assignments and it was something I found I really enjoyed."
In September 2020, Stheiner started at Cooley Law School's Grand Rapids campus, that later merged with the Lansing campus, and aims to graduate in December.
"What I enjoy most about Cooley is the faculty and staff—professors have so much real-world knowledge from practicing the law," she says. "Professors and staff want students to be as successful as possible and take a direct interest in students' success.
OPPORTUNITIES FUEL SUCCESS
"I'm so grateful to have had the opportunities I've had thus far. I'm so empowered by the faculty, staff, and my classmates at Cooley. I have a support system that has helped me to be where and who I am today. I also encourage law students to take full advantage of the student organizations and resources their schools offer."
A highlight has been winning the Cooley Intraschool Moot Court competition in the fall of 2021 and serving as the Michigan campus Moot Court Board president; and she later participated in the Region 6 qualifier for the New York City Bar Association/American College of Trial Lawyers National Moot Court Competition at Case Western Reserve University last November. She and her Moot Court team argued a case about the Prison Mailbox Rule and whether the prisoner's blanket policy against gender affirmation surgery for prisoners suffering from gender dysphoria constitutes cruel and unusual punishment in violation of the 8th Amendment.
"Moot Court has helped me to become more confident when speaking or presenting on the spot," she says.
With a strong interest in litigation and in experiencing the many different areas of litigation, including in prosecution or in the judicial realm, Stheiner has been working since May as an intern with the Prosecuting Attorneys Association of Michigan (PAAM) at the Ingham County Prosecutor's Office.
"The hands-on experience I've had this summer is invaluable to my goal of becoming a litigator," she says. "The prosecution staff has been helpful, supportive, and have given me direct opportunities to participate in the criminal justice system."
GIVING BACK
Stheiner gives back to her law school community by serving as a teaching assistant for the Personal and Professional Responsibility class; and working as a research assistant.
"I enjoy being a TA and helping student approach learning from a different aspect," she says. "Law school is challenging and having diverse resources available helps students to be more successful."
She also serves as president of the Student Bar Association and previously served as mentorship chair.
"I highly recommend that all law students participate in their school's student bar association as it's a great networking opportunity and a way for people to get involved in student advocacy," she says. "Serving as president of the SBA has helped me so much in my professional growth and I've thoroughly enjoyed it."
In addition, she is a member of the Organization of Women Law Students (OWLS); and a member of Scribes – The American Society of Legal Writers.
"Being a member of OWLs has connected me to the Women Lawyers Association of Michigan and my participation in this summer's WLAM summer leadership class," she says. "I'm looking forward to connecting with other women law students and attorneys."
The Managing Articles Editor of the Cooley Law Review, Stheiner says her goal is to be published in the school's law review.
HARD WORK RECOGNIZED
Stheiner was honored for all her hard work by receiving the 2022 Ralph M. Freeman Law School Scholarship from the U.S. District Court for the Eastern District of Michigan. Named for the late U.S. District Judge Ralph M. Freeman and his late wife, Emmalyn, the scholarship is awarded to a third-year law student in Michigan who has excelled in school competitions and/or been a service to Moot Court, Mock Trial, ADR, or similar activities. She was honored with the $1,000 scholarship during a ceremony at U.S. District Court in Detroit.
"I'm incredibly honored to be recognized by the Cooley Law School faculty as the recipient of this year's Freeman Scholarship," she says. "It's humbling to have my interests in litigation and participation in moot court validated by a group of faculty I respect. I'm so thankful to Professor Martha Moore for her support and for believing in me."
The first in her family to attend law school, Stheiner says she is very thankful to have a supportive family that pushes her to be her best. Her father leads an engineering team at General Motors, while her older brother and sister-in-law also are engineers at GM, and her mother is part of the University of Michigan Kellogg Eye Center in Ann Arbor.
A native of Pinckney in Livingston County, Stheiner now makes her home in Lansing, where she has participated in two expungement clinics.
"I've enjoyed being able to do hands-on work with people in my community," she says.
This article about Cooley Law School student Riley Stheiner was written by Legal News writer Sheila Pursglove originally published by the Legal News on June 16, 2022. Reprinted with permission of The Detroit Legal News. Photo courtesy of Riley Stheiner.