One Man's Mantra: Work Hard, Study Hard, Give Back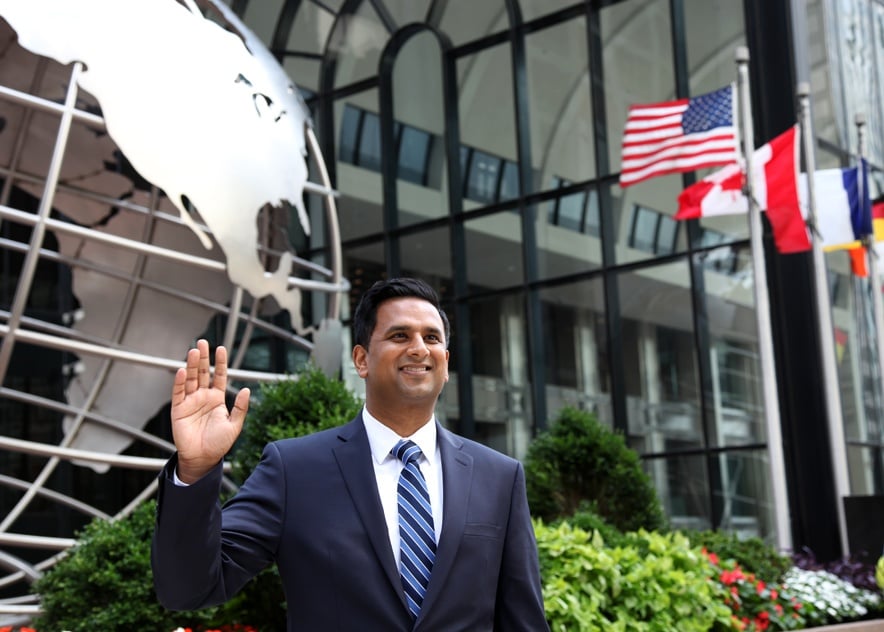 At just two years of age Ahmed Salim moved with his family from their homeland in Pakistan to the United States, into the south suburbs of Chicago. Salim's parents wanted what every other immigrant family wanted – a better life for their children.
Yet the distance traveled and the years in between haven't diminished Salim's cultural pride, and the values of his upbringing. Those are lessons he has never forgotten.
His parents' mantra, 'work hard, get educated, and give back,' has guided and given him direction all along the way.
"My parents stressed the importance of working hard and giving back to our community," remembered Salim. "My father would tell me that by helping my neighbors and those in need, you will also help the community prosper. That made sense to me."
What also stood out in Salim's mind was the importance of education.
"My father would say, 'If you go to school and work hard, you will get your opportunity.'"
It was never a matter of whether Salim would go to college, but where and when. So after graduating from his high school, Salim enrolled at DePaul University. Chicago was home for him, and he was very much attracted to the ideals of the university, and its curriculum which incorporated service learning partnerships throughout the Chicago area.
Then after college in 2006, Salim and his brother started a business together.
DECIDING TO GO TO LAW SCHOOL
"Going to law school was actually something I had always wanted to do," explained Salim, "but I thought I should get some work experience before I made the next step."
Not long after the two started their business, Salim began to notice issues with the economy and what looked like an oncoming recession.
"Business started decreasing. People had less money to spend. I realized fairly quickly that I needed to have something I could fall back on – a career that would be stable for the rest of my life."
For Salim, that was the study of law.
"I had always thought of law school growing up, and I felt it would be a natural transition to go from a business background to law school – especially with the state of the world at that time."
But going to law school wasn't just an economic decision for Salim.
"Law was more a passion for me," said Salim. "I've always had the desire to help people, and when you look at something like law versus business, I felt like a legal background would allow me to do more, and give me the base needed to make real change and impact others' lives."
With Salim's roots and community in Chicago, he knew he wanted to stay in the region for law school.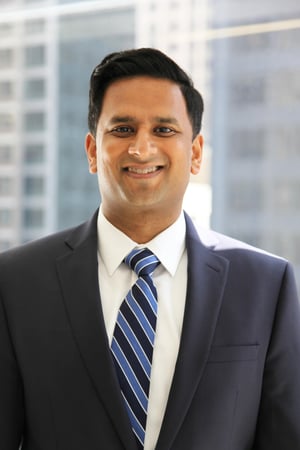 "I had a friend from high school and a friend from college who attended Cooley, and they told me about the Grand Rapids campus and the great professors," recalled Salim. "They liked that the class sizes were small and that the professors actually spent time with you, making sure students got what they needed. "My father and I decided, once I got my acceptance letter, to drive down to Grand Rapids and check out that campus. The minute I stepped foot onto the campus, and saw the town, I knew that's where I wanted to go to law school. I wrote my check to Cooley Law School that day, and sent my denial letters to the other law schools waiting on my decision."
Salim started with Cooley that year, and he immediately became active in law school, including being an officer in student government and engaging with the local legal community. He learned to be in front of people and working together in groups. But his primary curricular focus was to be a public defender.
"When I got into law school, I originally thought I wanted to be a public defender. That was my goal. But I also knew Cooley Law School had a great externship program, and I could go just about anywhere in the nation for that experience.
"I had the absolute privilege of externing for the San Francisco Public Defender Office, which is one of the best public defender's offices in the entire country. I learned what I really wanted to do in my legal career there. I had a front row seat to see how people can truly help other people, while utilizing their law degree to do so.
"Everything I was able to do during law school was amazing. I still keep in contact with many friends and my professors from Cooley. It was easy to build strong relationships. Not only did everyone support you during law school, but after graduation. I feel like that's something Cooley Law School offers that a lot of my colleagues who went to other law schools don't have – accessible faculty and a network of alumni who just stay close. It's great to have that."
CAREER AND ASPIRATIONS
After graduating from Cooley, and being interested in politics, Salim started working for a congressman in California. It was during this experience that Salim was appointed to be his point person for any Affordable Care Act matters. That experience not only led him into the healthcare field but doing a considerable amount of compliance work for area hospitals.
Today Salim is the Regional Director of Compliance at Presence Health, working in the heart of downtown Chicago in the Loop area. He spends much of his time devoted to investigating potential fraud, waste, and abuse of government resources.
"My job is to ensure that we're following all rules and regulations provided by the Office of the Inspector General in Washington D.C. My goal is to protect the organization against fraud, waste and abuse within the organization. Essentially that's done by conducting audits, making sure we're billing appropriately, following procedures correctly, and making sure patients have their privacy.
"Cooley Law School really prepared me for that – the ability to actually understand rules, understand regulations. It's a growing field for attorneys because healthcare rules and regulations are very complex.
"Attorneys can go in a lot of different directions. You could use a law degree in practice, but also take a non-traditional route, like a compliance officer or analyst."
Working in the healthcare field has been rewarding and invigorating, but Salim has recently set his goals on entering the political arena. He feels he can now move his passion in ways he can help his community by inspiring growth through leadership and policy-making.
"Having worked on numerous political campaigns, I knew I had the passion. I remember being in the throes of a campaign and meeting up with then State Senator Barack Obama. I spoke and met with him many, many times, because it happened that we were both on the same campaign stops. Nobody ever expected, or even thought at that time, that he would eventually become the President of the United States six years later.
"It's actually kind of crazy. It makes you think anything is possible."
Being part of that campaign was what Salim says gave him the confidence and knowledge to take the next big step in his career.
"I think it was working on that political campaign that had me saying, "Hey, I really can do something where I will be able to help out my community. I thought it might be something behind the scenes, possibly working for a congressman or working somewhere in Washington, but I never thought I'd actually run myself one day, but here I am!
"A lot of my life experiences have led me to the decision to run for Congress. Many of the main issues, like healthcare, immigration, student loans, livable wage, touch me personally. It seemed to me that many of these concerns aren't being talked about anymore, and they were affecting a lot of people. I saw this as an injustice in my community. It was time for someone to stand up. I decided that person was going to be me."
FAMILY AND CULTURE
Salim has been married to his wife, Asra, for close to five years now. She works in healthcare as an infection preventionist at Northwestern Memorial Hospital in downtown Chicago.
"There are so many connections. I met Asra when I was going to law school. On top of that, Asra's sister was a Cooley Law School graduate and one of her sister's friends was a professor at Cooley Law School. That professor even taught my Intro to Law class during my first year in law school. We got married after I graduated from law school, and we moved back to California, mostly because she had a job there. I didn't have any career connections in California, but fortunately it didn't take me long. I thank the Cooley alumni network for that.
"It's funny how small the world can be. It made me realize how the Cooley Law School family is connected everywhere."
The idea of being connected is important to Salim. Whether it's in Chicago, Grand Rapids, California, or fostering the customs of his homeland in Pakistan.
"Our family can speak Urdu, and my parents can also speak Punjabi. Mine is a little broken, but we try to stay on top of it because it's our culture. I want to stay true to our past. The last time I went back to Pakistan I was in the sixth grade. I got to go back with my mother and my sister in the summer of 1996. We got to see all my family. It was unforgettable. I'm hoping to return to Pakistan soon, once things settle down with the campaign, especially to bring my wife so I can introduce her to my family there, and show her the beauty and wonder of my heritage."
For now, it's Salim's Chicago community that is riding in the front seat.
"All my dad talks about now is the campaign," smiled Salim. "This year, my parents and I had the opportunity to march in Oak Park's 4th of July parade. I couldn't believe it. Here they were, both of them, despite their age, holding our banner, with no complaint. It was a couple miles of walking, but they held the banner high, and loved every second of it.
"It was a defining moment for them because they could see how positively people responded to us. They were so supportive. It also gave them such pride in how they raised their children."
COOLEY LAW SCHOOL FAMILY
Even though Salim has been out of law school for five years, he still feels connected to Cooley.
"I've met many people in other states, and it's great, because once they discover that we're both Cooley grads, they immediately want to know what I'm doing, and let me know that they are there to help me out. It's an instant camaraderie that I don't think you find elsewhere.
"I don't know if it's because we all bonded together in law school because the classes were small, or if it's because we were all going through something that was really tough – tougher than most – but I am grateful and appreciative to everyone there.
"I can't say enough without sounding hokey, but attending Cooley Law School was the best decision I've made, and I'm not just saying that because I ended up in a great position.
"Essentially, I owe everything that I have to the fact that I did go to Cooley. I tell people that all the time."
---
This article was originally published in the December 2017 edition of Benchmark Magazine.