Nathan Tamulonis: Scholarship and Service Culture Converge at WMU-Cooley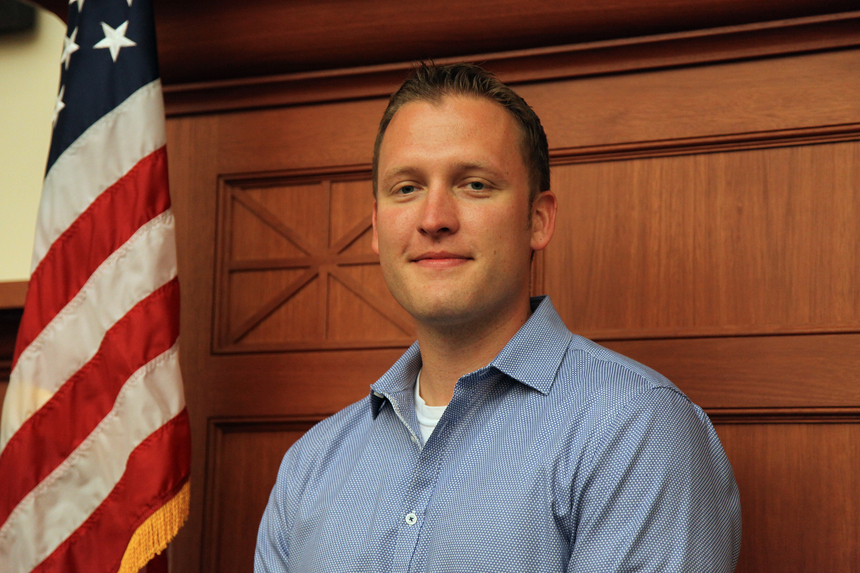 Nathan Tamulonis hails from Indianapolis, but after college everything seemed to converge together in what he calls the "perfect storm." The warm breezes of the Tampa Bay area were calling him, and Tamulonis and his fiancé, Hanna, made the decision to make Tampa their home, and WMU-Cooley Law School Tamulonis's law school.
"We were tired of the winters in Indiana," remembers Tamulonis about the decision to relocate. "We couldn't wait to move some place warm. We started looking into places that were coastal. Then Hanna found a job in Tampa Bay at the same time I got my acceptance letter and scholarship from WMU-Cooley. Everything just seemed to fall into place for us."
But Tamulonis didn't grow up thinking he was going to be a lawyer. In fact he was thinking about a career in politics until he found himself on jury duty as a 20-year-old. That's when things changed. It may have been his first exposure to the legal justice system, but it was that experience that sent him in the direction of going to law school and the practice of law.
"I found being in the courtroom really thrilling," remembers Tamulonis. "I loved that I was able to talk to other people during the jury discussions, then through careful deliberations we were all able to come to a result that we felt was just and fair. That was really exciting for me. Being a part of that trial and part of that jury made me realize that this is something I could actually do, and do well."
unique learning environment
As much as Tamulonis found his scholarship and the law school's flexible programs great motivators in his decision to attend WMU-Cooley, it is the diversity of the law school that he has found invaluable in the classroom and an advantage to him as he moves from student to attorney.
"One thing I really appreciate about the law school is the diversity on our campus," professes Tamulonis. "You see all the differences among our student body. Not just race and gender, but in the different backgrounds and demographics. Some people in my starting class had really impressive professional careers before they even came to law school. I believe all these differences make for a robust learning environment. Being around every kind of people contributes to the quality of the education that we receive here."

Tamulonis has learned much during his time at WMU-Cooley. And he has done well. So well that that his accomplishments caught the attention of his professors. He now works as a Grad Assistant in the law school's Academic Resource Center (ARC).
"I'm teaching new law students things I've only just learned myself," smiled Tamulonis. "But I really enjoy it. Plus I serve as a teaching assistant for a couple of classes; Civil Procedures and Bar Skills, which I enjoy as well. As part of my skills training and externship for the law school, I am working as a research law clerk for an attorney here in Tampa. I can't wait to put the skills I have learned in the classroom to good use in a real world experience!"
making a difference vs. making money
The fact that Tamulonis never thought of a legal career is curious since his father was an attorney. Growing up he knew that his father found financial success as an attorney. Yet he also felt his father didn't seem satisfied.
"I don't know that he enjoyed his work," reflected Tamulonis, "and that's something that is really important to me. I always knew that I wanted to find work that I would find gratifying and fulfilling. I want to be able to serve people, which is exactly what I am finding I can do with my law degree."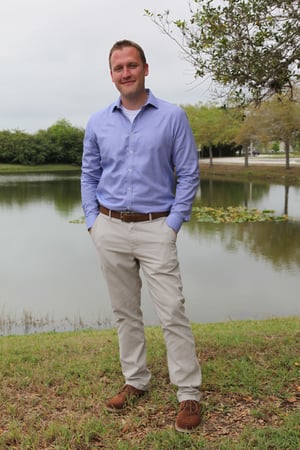 In his undergrad, Tamulonis studied political science and philosophy, with a focus was on ethical consideration of politics. He originally found many reasons to despair. He found so many policies that didn't make sense. Yet through the process of his legal education he discovered how the law takes the role of making meaningful change to policies and serve justice.
Tamulonis explains it this way. By understanding the law and the legal system, and making use of that knowledge, you can find the path forward in making sure people have access to fair outcomes.
"It's essential to a fair society to make laws that people understand," declared Tamulonis. "Many times people will make decisions when they don't understand the legal risks, or will do something that is unlawful and not realize it."
MANY PATHS TO HAPPINESS
Tamulonis sees the legal field as a career that can go in so many directions. He has lots of ideas for what he wants to do with his new found love of the law, but hasn't settled on exactly what that looks like yet.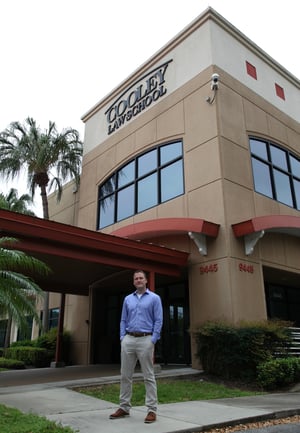 "To be honest, I do not know what my first job will be," smiled Tamulonis. "I thought I wanted to do civil litigation because I have so much experience and confidence in the courtroom. I've already been in about 20-30 trials. I've done Moot Court on campus and participated in two national moot court competitions, including a national mock trial Florida-based competition. Those really prepared me for the courtroom."
But life can lead you down other paths. Tamulonis's fiancé, Hanna, is a German native, and, for her, a priority is getting back to the European Union. As quickly as possible.
Always open to taking the unusual path, Tamulonis is exploring all options. Right now he likes the idea of working in compliance or transactional work in Europe. He's received some good advice from WMU-Cooley Professor Paul Carrier on ways he can make himself very marketable to a European business.
"The law school has professors on campus with diverse professional experience, including in international practice," declared Tamulonis. "For example, Professor Carrier, our Contract and Sales guru, has experience with international contract practice. Having access to professors with this much world experience is a huge advantage. I believe that WMU-Cooley provides students with a quality education that is unpaired with any other law school across the United States."

No matter what direction life takes him, Tamulonis is sure of one thing. He wants to serve his community and make the world a more fair and just place.

"Serving others is something that really matters to me, and at the end of the day that will be essential for me to live with myself and sleep at night," says Tamulonis. "That really drives me in my studies. Like in my Contracts class, I am mindful of the fact that I may represent someone who has a complicated contract that they will need to understand. It's important to me to provide the highest quality of service by developing a deep knowledge of the law. It is in that way you can best serve other people."