WMU-Cooley Law School knows a lot about innovation and action. Those qualities have been instilled in the law school since its inception in 1972. It continues today. New teaching reforms have been spurred by the law school's three-year project with Western Michigan University's Instructional Design Research Lab, which is directed by WMU's behavior-management expert and pyschologist Dr. Douglas Johnson.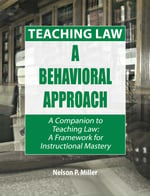 A new book, Teaching Law: A Behavioral Approach, a companion to the earlier book, Teaching Law: A Framework for Instructional Mastery, summarizes the law school's new active-learning designs and empirical studies on which participating WMU-Cooley expert faculty Tonya Krause-Phelan, Victoria Vuletich, David Tarrien, Toree Randall, Devin Schindler, Cathy McCollum, and Nelson Miller have based teaching reforms.
"The behavior-management project spurred a revolution in teaching that we didn't even know we needed," the book's author WMU-Cooley Associate Dean Nelson Miller says. "We've always been strong in the classroom, but this work has substantially increased the fruitful activities in which students in the classroom now engage."
The positive effects on academic retention, graduation, and bar passage have been dramatic for participating students, Dean Miller adds, explaining, "Behavior-based designs let students and professors see how students are thinking and performing at every stage, from simple understanding and recall through complex sequencing all the way to strategic problem solving."
As the Behavioral Approach book explains, the classroom changes are evident the minute one walks in. Students work in pairs and small groups through specific, constantly changing series of minute-by-minute guided exercises, comprising about half of total classtime. (Traditional lecture, discussion, and case recitation comprise the other half.) Online flipped-classroom resources ensure that every student has needed resources.
"The Multistate Bar Exam tests a couple-thousand different rules that lawyers need to know," Dean Miller shares, adding, "We want students not only to know those rules but to be so comfortable and skilled with them that they can readily create solutions for appreciative clients." The project's behavior-based designs create visible student evidence of those emerging skills.
About 20 graduate students in WMU's organizational-behavior-management program have supported the law-teaching project under Dr. Johnson's supervision. "He's been a fantastic collaborator," Dean Miller says, adding, "He even co-authored a book on bar-exam preparation with us and supported work on three related bar-preparation books we've published as a result of the project." The project continues into next year and, the participating law professors hope, beyond. No end at WMU-Cooley to innovation.
---
Nelson Miller is the Associate Dean and Professor at WMU-Cooley's Grand Rapids campus and in Kalamazoo at Western Michigan University's main campus. He has argued cases before the Michigan Supreme Court, Michigan Court of Appeals, and United States Court of Appeals for the Sixth Circuit, and filed amicus and party briefs in the United States Supreme Court. He has has many published books, casebooks, book chapters, book reviews, and articles on legal education, law practice, torts, civil procedure, professional responsibility, damages, international law, constitutional law, university law, bioethics, and law history and philosophy.