David Malson, by anyone's standards, personifies career success and a meaningful life. But Malson would say it has been his dedication and commitment to building balance and forging strong relationships that has guided him, both personally and professionally. Malson is one of many WMU-Cooley graduates that will be featured in the 2019 summer edition of Benchmark Magazine. Here's an excerpt from his upcoming feature. Look for the full story in the next issue of Benchmark Alumni Magazine coming out in June 2019!
WORK-LIFE BALANCE
"Work-life balance is something I have strived to put at the top of my list in terms of the every day and the every week. It's how I wanted to handle my life," recalled Malson. "But it wasn't (his priority) until a colleague of mine, Woody VandenBosch, my mentor, opened my eyes to what was really happening. One day he closed the door to my office and gave me a little sage advice.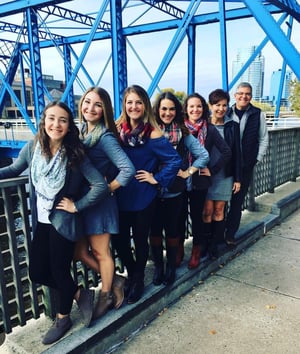 "He first let me know how much he appreciated how hard I was working. He then let me know that he knew I had a wonderful wife, two (at the time) lovely daughters, and that he thought it was important for me to learn how to balance my commitment to my family (the appropriate time to spend with my family), while at the same time, to learn how to manage quality work and meeting deadlines."
That caring piece of advice stuck with Malson, and it's advice he has shared with many other colleagues along the way.
Malson chuckles over it now, but recognizes how young attorneys all too easily can find themselves spending more and more time working, thinking that is the only way to get ahead.
"Now that I'm in my 33rd year, I still look back at that conversation as a pivotal time for me. I knew at that moment that I would spend the rest of my life making sure to prioritize a work-life balance, and to remind others younger than me of this truth. It's the only way I know for people to be healthy, productive and happy."
A good work-life balance at Barnes & Thornburg includes supportive programs and policies like a 16-week paid maternity or paternity leave for attorneys and staff, and establishing a mentoring program where employees can be paired with someone in another practice group department to promote growth and advancement opportunities. Both programs, says Malson, are benefits employees "truly appreciate" and "go a long way in supporting balance at crucial times in their lives."
malson's 10 ways to find success in life
It's always a good idea to take advice from someone who has found success in every way. Below are 10 ways Malson believes will lead to happiness and a fulfilling life.
Don't feel as though you have to take a particular direction, always remain flexible
Invest yourself in any job opportunity by being prepared and through hard work
Find balance in all aspects of your life
Find a mentor
Work in a culture of hard work, talent, wellness and service
Keep your relationship with your spouse the most important relationship - always work together, talk together, and share life's events together
Be involved in your children's activities and lives
Be involved in service to your community
Families that travel together, stay together
Involvement in sports teaches you life lessons