Law student Heather Silcott honored with SBM Animal Law Award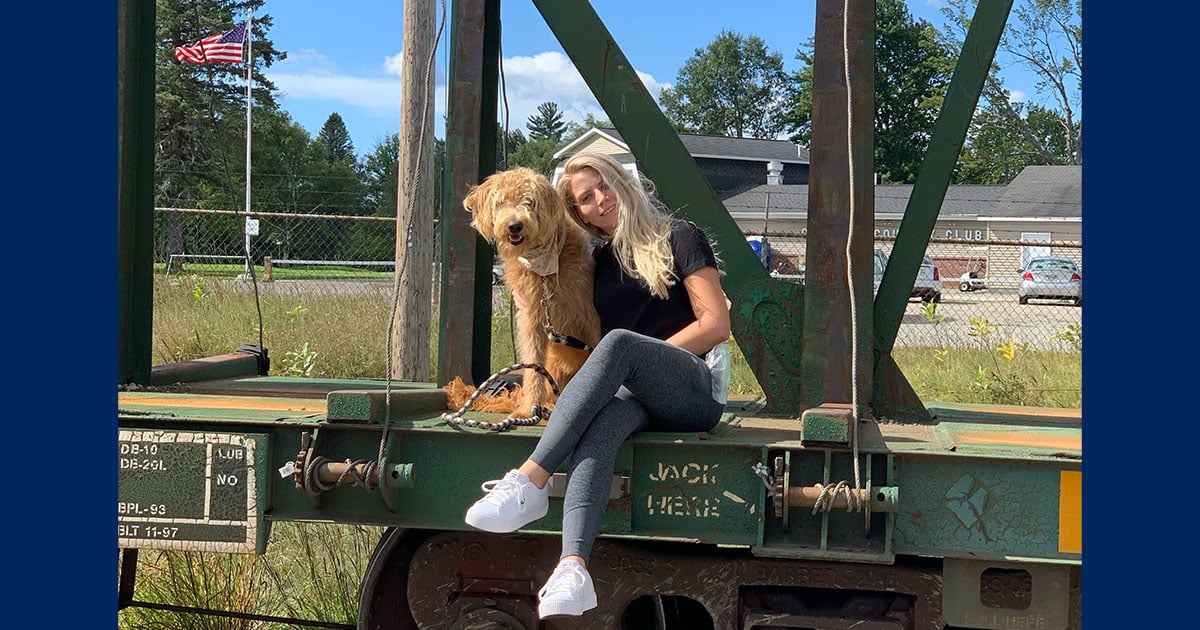 WMU-Cooley Law student Heather Silcott knew from the moment she rescued a labradoodle named Bruno from an auction that animals needed lawyers.
"This is when I decided to look for an animal law course because I needed to know more about how the law treats animals," she says. "The animal law course at Cooley taught me so much that it inspired me to devote my pro bono work after I graduate to helping be a voice for animals."

A 3L student, Silcott is this year's recipient of the State Bar of Michigan's Wanda A. Nash Award, named after the founder of the SBM Animal Law Section. The annual award recognizes a 3L law student at a Michigan law school for substantial contributions to animal law. Dean Amy Timmer nominated Silcott, as an outstanding law student, committed to animal rights. The award ceremony was held April 4 via Zoom and Facebook Live.

After seeing an animal control post about Bruno's availability for adoption, Silcott contacted them; to be told that since multiple people were interested in the dog, per city policy, an auction would be held.

"I was shocked by this and decided I had to go to the auction and see how it works," she says.

She showed up on the date and time, only to find out the date and time had been rescheduled to accommodate bidders flying in from out of state.
SAVING ANIMALS
"At that moment, I knew I had to save the dog," Silcott says. "He was unfixed, and I knew people would be interested in him to use him to stud him out and make money off of him. I wanted him to live a life as a dog and not just be used for breeding."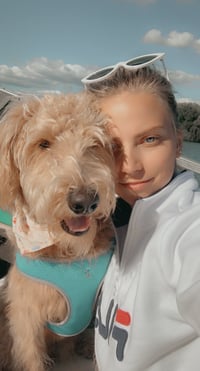 On the new date and time, the lot was packed. The animal control office explained how the auction would work, and bidders stood in a circle.
"We all had our hands up, and the animal control officer started to call out dollar amounts. When it became too high of a price, you would put your arm down," Silcott explains.

The bidders finally came down to Silcott and another family.

"The price kept rising and rising, and it got so high I was confused as to why someone would pay this high price when you can get a new puppy labradoodle for cheaper," she says.

The other family eventually stopped bidding.

"After I won, I was finally able to meet and pet my new dog," Silcott says. "He was scared and shaking, which is not typical for a labradoodle. He didn't want to get in my car and leave. I sat on the ground with him in the parking lot until he was ready to get in the car and trust me. After about 30 minutes, he decided he was ready.

"When I got home, he was so scared he wouldn't step foot in the house, but he would go into the backyard. He hid under the porch and wouldn't come out. I could tell he had been through trauma or some life-changing event."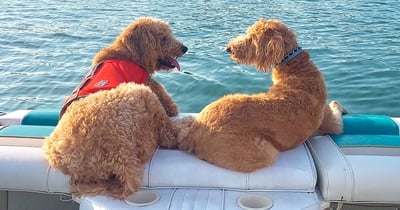 But when Silcott's other dog, a Goldendoodle named Sasha, stepped into the house, Bruno followed her—and they immediately became fast friends, in a household that includes three cats.

"It didn't take long for Bruno and Sasha to become the bosses of the house," Silcott says with a smile. "This year will be two years with Bruno and it's been the best two years of my life. Sasha has taught Bruno how to really be a dog. He now loves to put his head out the window in the car and let his ears flop in the wind."

Silcott earned her undergrad degree in criminal justice from Wayne State University, interning with the Drug Enforcement Administration in Detroit and working as a police cadet in Farmington.
LEGAL PATH TO SUCCESS
But a couple of jobs as a legal administrative assistant turned her sights instead to pursuing a law degree; and she also is working as a legal assistant for Progressive Insurance while attending law school.

She relaxes by playing ice hockey competitively for Belle Tire, and her team won a national championship in Tampa. This background gave her a goal of becoming a sports and entertainment contract lawyer.

As Miss Michigan U.S. International 2021, with the honor of representing Michigan at the Miss U.S. International Pageant in Orlando, Silcott notes pageantry built her confidence to help prepare for walking into a courtroom and being able to talk in law classes.

Juggling full time work and leisure pursuits while attending law school, Silcott is enjoying her experience.

"I enjoy how much each professor really cares about your success—Cooley Law School wants to see you succeed," she says.
This article about WMU-Cooley Law School graduate Mina Woodard was written by Legal News writer Sheila Pursglove originally published by the Legal News on April 7, 2022. Reprinted with permission of The Detroit Legal News. Photos courtesy of Heather Silcott.