Kwame Rowe – Understanding You Need to Work Hard Makes the Task Easy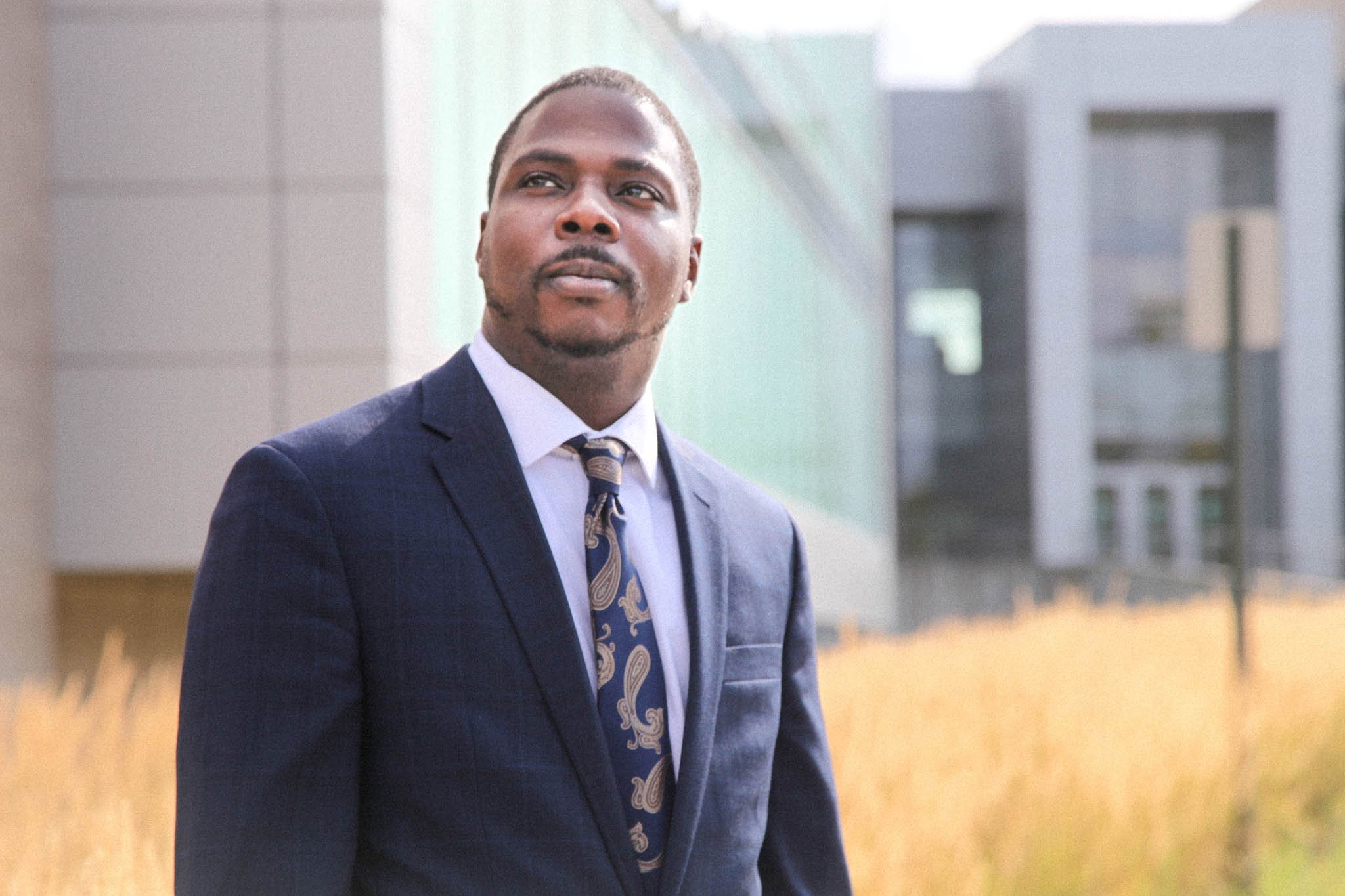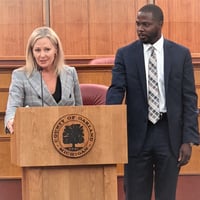 On Thursday, July 22, 2021, Governor Gretchen Whitmer announced the appointment of OCBA member Kwame L. Rowe to the 6th Circuit Court of Oakland County. Kwame L. Rowe currently serves as an assistant prosecutor for Oakland County. In his current role, Rowe is a special assistant prosecuting attorney with the Trafficking Unit working on felony cases involving human trafficking, complex narcotics, and homicide. He previously served as a clerk under Judge Leo Bowman of the 6th Circuit Court.
Rowe earned his Juris Doctor degree from Thomas M. Cooley Law School and holds a Bachelor of Arts from Michigan State University's James Madison College. He is a member of the Oakland County Bar Association, Straker Bar Association, and Wolverine Bar Association, and he serves as a volunteer at Pontiac High School. Kwame lives in Pontiac with his wife, Gabriel, and children.
On Friday, August 13, 2021, Judge Rowe was sworn in at a private swearing-in ceremony held at the Oakland County Commissioners Auditorium in Pontiac, Michigan. Judge Rowe with Cooley Professors Martha Moore (left) and Joan Vestrand (right).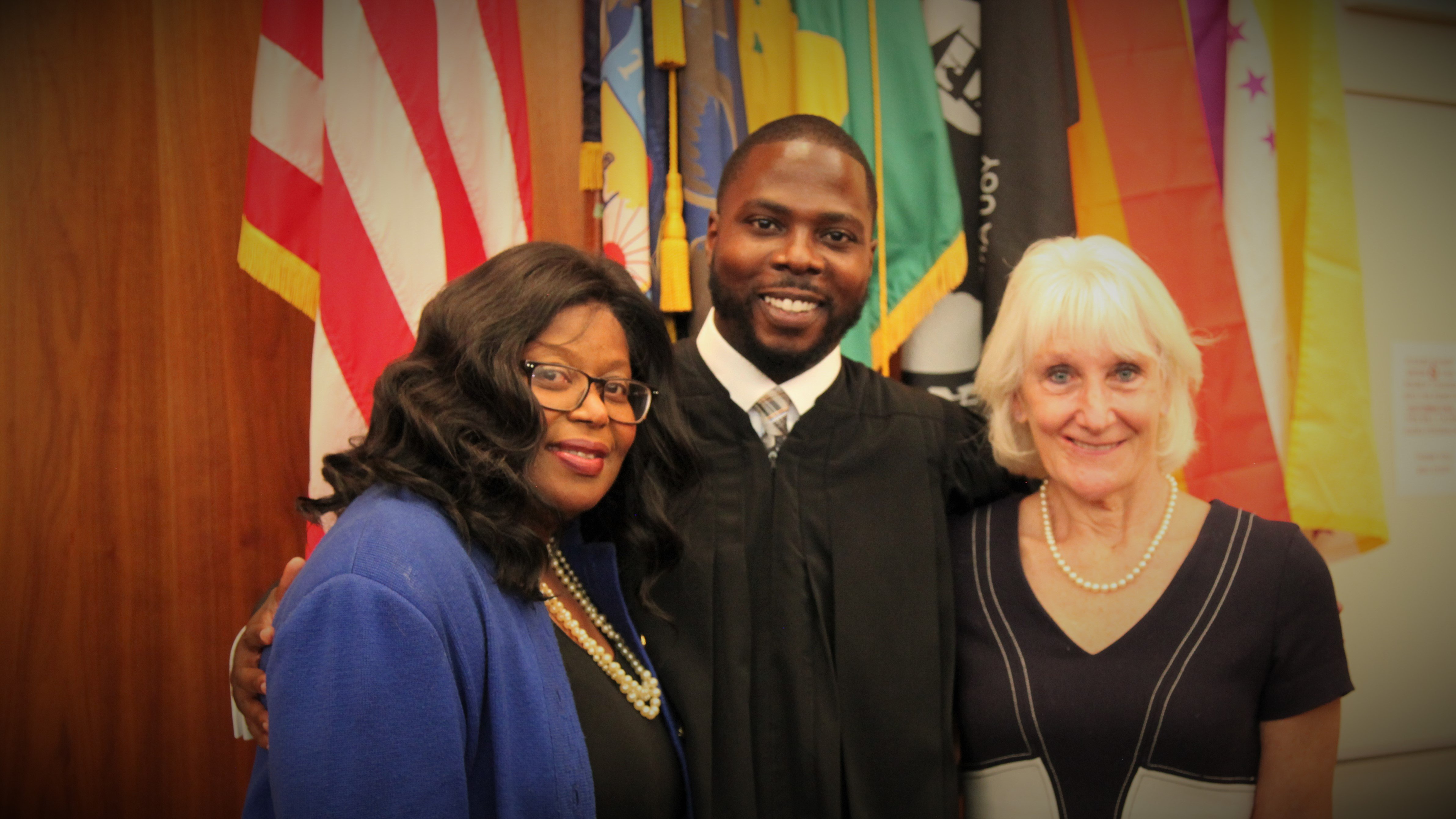 KWAME ROWE STORY
While in 11th grade at Pontiac Northern High School, Kwame Rowe — Cooley graduate and lawyer with the Oakland County Prosecutor's Office — had an experience that introduced him to his future love. It was the day Auburn Hills Associate Dean Joan Vestrand came to talk to students about street law. When she started to set up for the presentation, her computer wouldn't work, so Rowe diligently tried to figure out a fix. As he tried everything he could think of, Dean Vestrand noticed his dogged attempts and told him she wanted to see him there every Saturday. That was the beginning of Success on Saturdays at Pontiac Northern and the start of Rowe's love affair with the law.
"They would come there with law students and they took us to a law school class," Rowe recalled. "I remember Cooley in Auburn Hills was at Oakland University so I went to Oakland University and saw a law school class taught by Dean Moore. She was Professor Moore at the time, and I just fell in love with the class. I said, 'Oh I definitely, definitely have to go to law school. I definitely have to be a lawyer.'"
RELATIONSHIPS MATTER
It was this introduction to the law that helped solidify Rowe's decision to attend Cooley after graduation from the James Madison College at Michigan State University. The relationships he had formed with Cooley deans, professors and students made his decision easy, along with the law school's flexible schedule options. Rowe, by then a young working father, knew his path was set.
Looking back, Rowe said, "It was exhilarating!"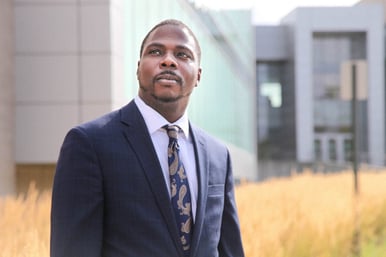 "I didn't find it too complicated. I always tell people, 'Hey I work on the east side of Detroit and I grew up in Pontiac; this isn't tough, that was tough!" said Rowe. "So, when I got to law school it was just putting my head down in my books and doing what I needed to do. I was already a young father so I knew I had to stay up at night and had to study."
Rowe managed his job working for Judge Bowman at the 6th Circuit Court in Oakland County, law school classes, studying, and raising two small children like a professional planner. Staying on a strict agenda and sticking to the itinerary.
"I got up in the morning and went to work when I was in law school … [then] come home, take the kids to the babysitter, come to class, read before I left class, and then go pick up the kids. And then read for the rest of the night after I put them to bed," recalled Rowe. "I got used to it. My body really got used to staying up at night and working. So that's it. I really had fun here. I didn't think it was too much hard work."

LESSONS LEARNED
Of course, Rowe admits his years at Cooley weren't one long joy ride and, indeed, a few incidents stand out as character shaping and even ironic. One was with Professor John Scott, which Rowe said didn't start out great, but ended well.
Rowe had a concussion from a car crash but refused to skip class. Instead he took his note and told Professor Scott about his injury. Then he sat back, believing since he had already been called on to discuss a case, he was safe. But that was not to be!
"First case, 'Mr. Rowe stand up and tell us about this case.' And I said, 'Professor you know I told you I have a concussion why are you calling on me?' And he said, 'Well tell me about the case.'"
Three times Scott made Rowe discuss a case, even knowing he had a concussion, so after class Rowe reminded him again about the concussion.
"I walked up to him and I said I had a concussion and he said, 'Nobody's going to take it easy on you when you're in court.' And I said, 'Well, okay.' That was a learning lesson — nobody is going to take it easy on you if you got in a car accident or had a concussion. You showed up so you better be prepared."
The second "moment" took place in Professor Emeritus Lewis Langham's trial law class. Rowe recalls this one is especially ironic because he enjoys his job so much.
"[Professor Langham] used to beat me up and say, 'No that's not right, don't do it that way, don't ask the question that way,'" said Rowe. "And I remember telling him, 'You know what? I will never be a litigator. I don't want to be in court anymore I just don't want to do it.' And he looked at me and said, 'Well, okay.' And now here I am, I'm a prosecutor and that's all I do every day is stand up in court and talk and litigate cases. So, the total opposite of what I told him."
WORK HARD. PROVE YOURSELF.
After all that's said and done though, Rowe acknowledges he never would have earned his legal degree and passed the bar were it not for Cooley's readiness to give him the chance to prove himself.
"When I came here I took the LSAT; Didn't do great. And that is the thing about Cooley," noted Rowe. "If it wasn't for Cooley, people like me who don't perform well on standardized tests might never get the chance, despite the fact that you would make an outstanding lawyer; the kind of lawyer this world needs. I didn't do well on that test but Cooley said, 'We'll give you a shot and let's see how you do.'"
"And I remember my first term here I ended that term with a 3.17. And by all statistics I was not supposed to have above a three point, I wasn't supposed to get an A. I was supposed to get here and really struggle my first term. That didn't happen. That test means absolutely nothing for people that want to go to law school. It's just a test."
From Rowe's perspective, it's much more about character, stamina and your love of the law.
"Once you get out and pass the bar, it's your reputation. It's how much you dig into the law and learn for yourself."