WMU-Cooley Grad and NHL Tampa Bay Lightning Head Coach Jon Cooper: Back-to-back stanley cup champs!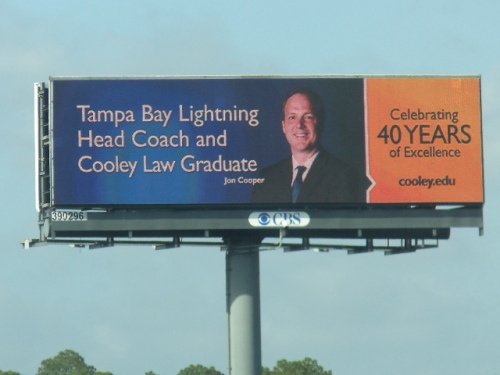 Jon Cooper Leads Tampa Bay Lightning to 2020 & 21 Stanley Cup Championships

From Law School to a Career Coaching in the NHL
In a
Summer 2016 Benchmark Alumni Magazine
Cover feature, graduate Jon Cooper talks about his interesting career path, starting in law school and a legal career, to following his passion to lead as a coach in the National Hockey League.
Near the end of the 2012-13 season, Jon Cooper landed the top job with the Tampa Bay Lightning organization. Only one season later, in 2015, Cooper led the Bolts to the Eastern Conference Championship, only to miss hoisting the cup by two games in the Stanley Cup finals.
In 2020, in the midst of a pandemic, Jon Cooper's Bolt's are laser focused, with one goal in mind; bring the Stanley Cup home to Tampa.
You did it! Embrace the moment! Toughest prize in all sports in the toughest Playoff in the history of the NHL. Congratulations!

This year, the Tampa Bay Lightning won the Stanley Cup for the second straight season with a 1-0 victory against the Montreal Canadiens in Game 5 of the Final at Amalie Arena on July 7, 2021.

The Tampa Bay team, and all the teams who made the playoffs, sacrificed much to get to this point. In a a
July 28, 2020 NBCSports article,
the" NHL players from the 24 playoff teams woke up to their new reality Monday in the hub cities of Toronto and Edmonton, Alberta. Quarantined bubble life began with the league reporting zero positive coronavirus test results last week, and this existence away from the public is scheduled to last until the Stanley Cup is awarded in the fall."
Winner and Leader: Now and Then
In another alumni publication that ran during the 2011-12 year where his team won the Calder Cup championship for the Norfolk Admirals, the Lightning's American Hockey League affiliate, Cooper, a 1999 WMU-Cooley Law School graduate, points back to his time in law school where he learned his survival skills for success.
"Cooley Law School taught me survival," said Cooper. "No one who graduates from Cooley was given a silver spoon; they worked hard. I took lessons learned at Cooley and throughout my life, and I applied them to coaching."
"He's such a great motivator," Michigan State University sophomore forward Anthony Hayes, a former player of Cooper's, told the Lansing State Journal. "Our players came to the rink every day ready to impress him. When Jon Cooper walks into a room, he has great presence."
Cooper also attributes that presence to his time at Cooley. "My education at Cooley gave me confidence in public speaking and an ability to think on my feet," said Cooper. "Those moot court and mock court competitions have brought out an ability that helps me daily."
Lightning player Tyler Johnson agrees with that assessment in an NHL.com 4-14-2015 story about Jon Cooper. Johnson said "Cooper uses his courtroom tactics on the bench and in video sessions. Like any good lawyer, he seeks opinions before stating his case and he chooses his words carefully when making his final argument."
To us here at WMU-Cooley, Jon Cooper is a leader on and off the ice.