Detroit's Revitalization Flows Through Work of Graduate Choi Portis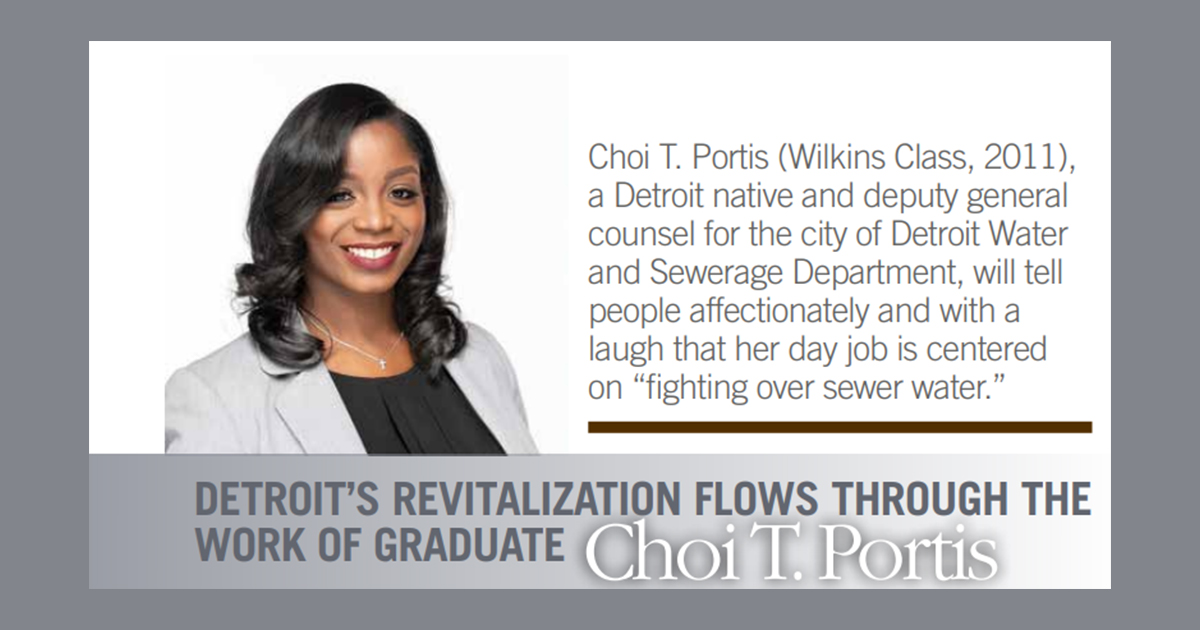 Choi T. Portis (Wilkins Class, 2011), a Detroit native and deputy general counsel for the city of Detroit Water and Sewerage Department, will tell people affectionately and with a laugh that her day job is centered on "fighting over sewer water."
However, above the ground, her career pace doesn't allow for any moss to grow underfoot.
In addition to her duties with the city, Portis also is a member of the executive counsel for the State Bar of Michigan Young Lawyers Section; owns Portis Legal, PLC, a small boutique law firm; serves as a mentor and tutor to bar candidates through the Wolverine Bar Association; and is chair-elect for the American Bar Association's Young Lawyers Division. She is also a busy mom to her 10-month-old daughter, Kensley.

For Portis, her career choice faced a turning point during her junior year at Eastern Michigan University. While working on a political science major with a focus on public law and government, her adviser, a professor, recommended Portis compare career opportunities with a political science degree versus what a law degree might offer.

"With a political science degree, I could either go into academia and teach, or go to Washington, D.C., or Lansing," said Portis. "I weighed that against what a law degree would offer, and it seemed to me that the most versatility of a post-bachelor's degree would be in law."
LAW SCHOOL BOUND
Four months after graduating from EMU, Portis enrolled at Cooley Law School where she was among the youngest in her class. It wasn't too long afterward she found law school to her liking.
"I had this immediate sense of camaraderie and family," Portis said. "The staff, my fellow students, we all kind of worked together toward the common goal of graduation. I never felt like a stranger on campus, I felt like part of a family."

Among those who helped inspire her were professors Florise Neville-Ewell and Martha Denning Moore.
"They both were instrumental in building a family atmosphere. Dean Moore really worked toward helping make it a community for students. And her home-baked cookies helped," Portis said with a chuckle.
Moot court was also a great experience, she added.

"It was kind of my first taste of advocacy," Portis said. "In my practice now, I do a fair amount of litigation, and even though moot court was at an appellate level, it definitely honed my advocacy skills."

Following graduation, Portis had a brief stint in debt collection litigation before joining the city of Detroit, where she worked as a litigation attorney. From there her career blossomed and she was named as the deputy general counsel for Detroit's Water and Sewage Department. She handles complex litigation matters, supervises outside counsel, reviews department contracts, and serves as counsel to the department director and the Board of Water Commissioners regarding various legal issues.
DETROIT REBIRTH
Portis enjoys the role she plays in Detroit as it continues its path to a major rebirth.
"None of the new developments in the city can happen without water," she said. "If one of the big three automakers want to build a new plant, they have to touch our water department. It's great being a part of the city's renaissance. Working to build this department has really been super cool, and every day is different. One day I might be working on a project on how COVID impacts our employees, and then the next day I might be handling a suit over a drainage issue."

Portis' hard work has not gone unnoticed. She was named the 2017 Detroit Metropolitan Bar Association's Barrister's Honoree and was a member of the Michigan Chronicle's 2017 40-under-40 class. Most recently, she was honored as a 2020 Michigan Chronicle Woman of Excellence. She also dedicates her time to service projects in the Inkster community as a member of Alpha Kappa Alpha Sorority, Inc., Eta Iota Omega Chapter.

Portis was recently elected Chair-Elect of the American Bar Association's Young Lawyers Division; she will become chair of the division next year. The division is the ABA's home for new attorneys, giving members tools to navigate the early years of a career, opportunities to network, and resources to grow skill sets.
DIVERSITY PROGRAMMING
She is working on a number of projects for the division, including programming for women of color in the legal profession. As the chair of the American Bar Association Young Lawyers Division, Portis plans to implement three major projects:
A study on Men of Color in the profession;


A Women of Color project that will highlight women of color in the profession; and


A public service project entitled Operation Second Chance that will focus on providing bar associations with information and resources to implement expungements, and an advocacy component that will focus on restoration of voter rights for returning citizens.
When she isn't busy with her professional duties, Portis spends a lot of time with her daughter, fiancé Steven Roberson, and her family.

"Besides watching Sesame Street with her, I love taking my daughter on walks in the neighborhood and the waterfront, watching and listening to the birds, and soaking in the nature," she said. Before the COVID-19 pandemic, she was able to travel a lot, including a visit to the Dominican Republic where she toured landscapes used in Jurassic Park. She also loves to read. Among her most recent books are "The Anxious Lawyer: An 8-Week Guide to a Joyful and Satisfying Law Practice Through Mindfulness and Meditation" and "Notorious RBG: The Life and Times of Ruth Bader Ginsburg."