Cooley Faculty Experts Speak Out on Equal Access to Justice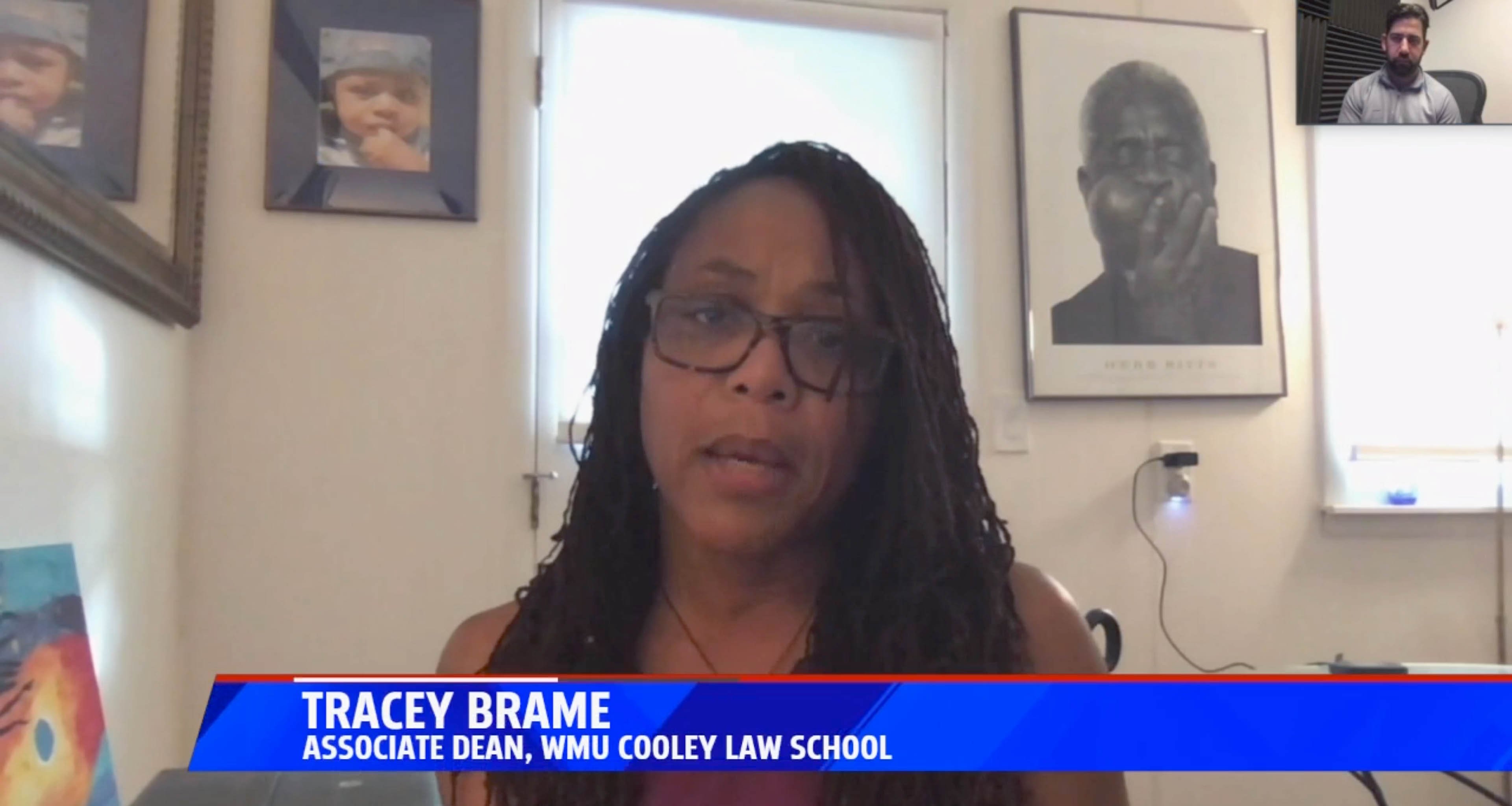 Tracey Brame, associate dean of Cooley's Grand Rapids campus, Renalia DuBose, a Cooley professor in Tampa, Florida, and Criminal Law Professor Tonya Krause-Phelan, have been called upon to speak about racial injustices happening throughout the country and the legal ramifications following the recent deaths of George Floyd in Minneapolis, Minnesota, and Ahmaud Arbery in Glynn County, Georgia.
ABC NEWS (Australia)
Associate Dean Tracey Brame speaks to ABC News (Australia) reporter David Lipson, Washington bureau chief for ABC Australia, in his segment about how the history of violence and discrimination grew into the Black Lives Matter movement. Brame talks about her concern for young black men, including her own son. "His shoulders are broadening, he's now taller than me. He has a little fuzz right here, and I'm like, oh my God, he looks like a young man, which both makes me incredibly proud, but makes me more and more afraid. I've got about a year that he's going to have an interaction."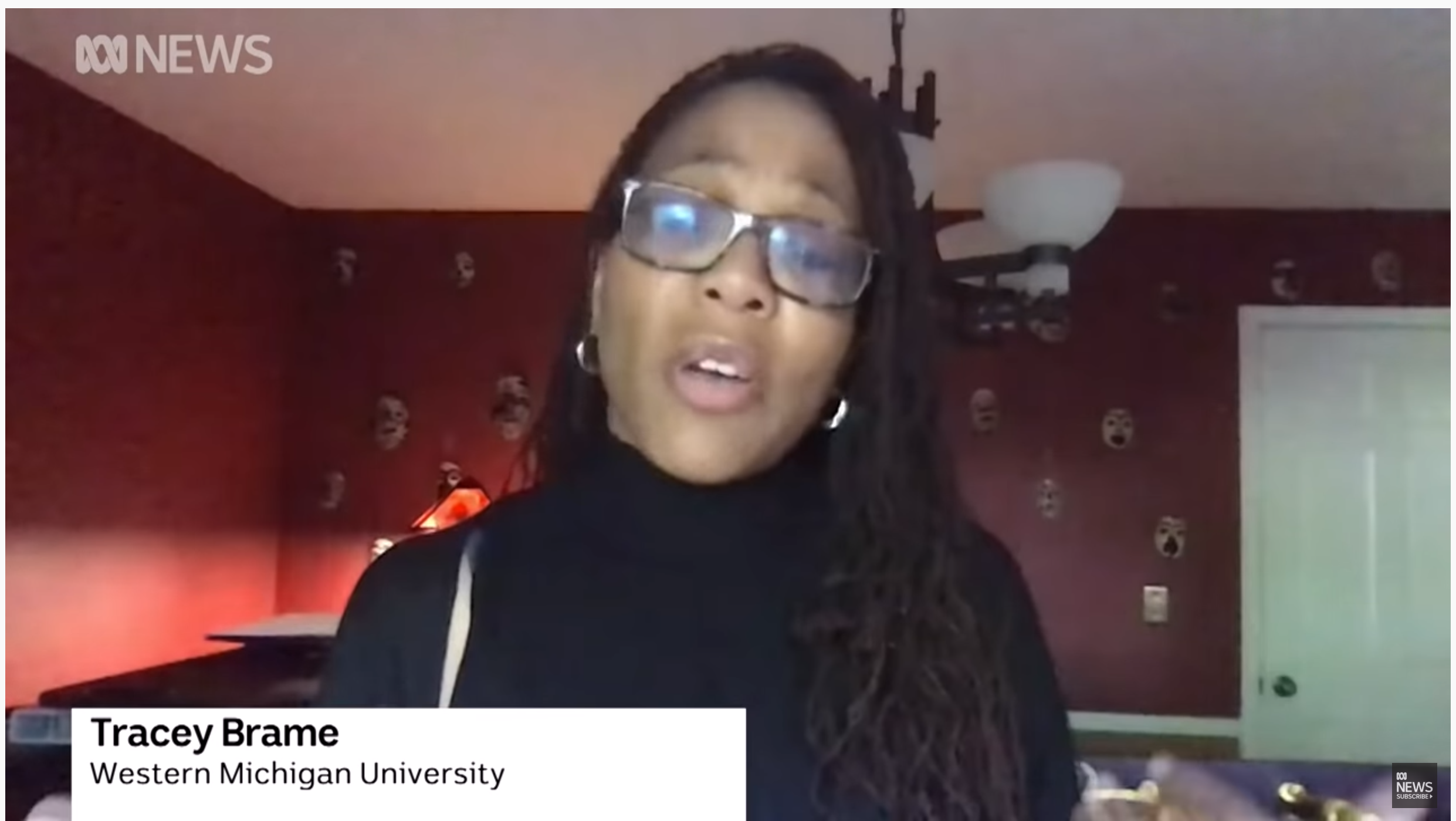 MICHIGAN PUBLIC RADIO
Associate Dean Brame shared with Michigan Public Radio's Stateside host April Baer that she was a college student when riots broke out following the Rodney King beating in Los Angeles in 1991, and how the recent riots brought her back to that time.
"It was gut-wrenching for obvious reasons, but none of the least of which is that 30 years later, we're facing the same issues, which is tough," said Brame, a civil rights expert who has spent years as a public defender, and conducted racial justice work in Alabama. "Fundamentally, I think these most recent cases that seem to come up monthly and yearly – in which officers are seen using excessive force against people of color – is an outgrowth of centuries of racism and discrimination and lack of respect for black life."
While laws are in place to protect people from being discriminated against, "the law, unfortunately, can't touch the fundamental problem of the lack of respect that our country still has for people of color, and like George Floyd, are automatically seen as dangerous criminals to be subdued."
"It's become a cycle and it'll continue to be that way unless somewhere along the way we can establish a sustainable commitment in being proactive – and not reactive – in improving the state of relations between people in the country and the state of being of African Americans," Brame said during her Stateside interview.
FOX 17 TV NEWS
Cooley criminal law expert and professor Tonya Krause-Phelan breaks down the charges police offers are facing in the George Floyd case on Fox 17 TV News. "Historically when it comes to charging police officers with a crime, we have seen the system, be very methodical, if not slow in bringing those charges against officers," said Krause-Phelan. ​"I know many people right now think that the week it has taken was too long, but in the context of history, this was relatively swift in making those determination to charge the officers," she added.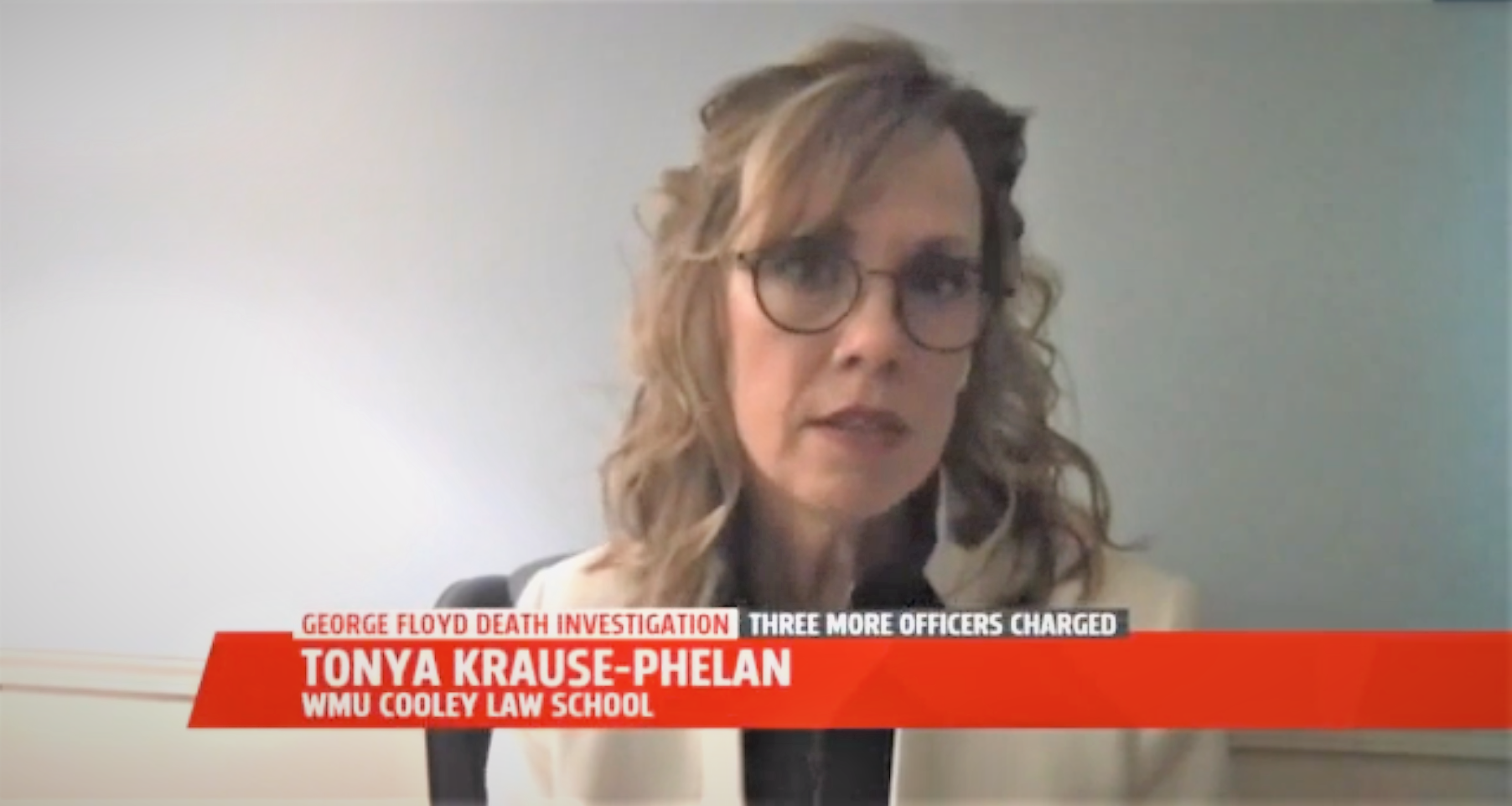 WMHM RADIO
On WMHM 1380 AM in Port Huron, Brame said she hopes the events associated with Floyd's death is a "tipping point in the sense that people hear the cries, not only of George Floyd as he plead for his life, but of his family and from the citizens of all races and backgrounds that are marching the streets to protest to try to bring this to light."
FOX 17 TV News
While speaking with Fox 17 in Grand Rapids, Brame shared that while it was "encouraging to see people come out in support of Mr. Floyd and his family, it's just discouraging that he didn't have that kind of support before."
"One of the most disturbing things about these kinds of situations is the seeming lack of respect for life of this young man," she said, explaining it's going to take a nationwide, systemic and cultural change to prevent similar incidents from continuing to happen.
"I think the law has done what it can to put people of color on equal footing, legally, right, and to, hopefully, enforce the rights of every American citizen," Brame told Fox 17. "But one thing that the law can't do, and that we have to do as citizens, is to really address the heart and mind issues. You can say you can't discriminate against this person because of color but you can't make someone respect them as a person.
"I often say, and I think this very deeply, that our country in general has a lot of work to do around the issue of race; around unpacking our history," she added.
ABC ACTION NEWS TV
In Tampa, Florida, Professor DuBose urged people to take their fight for justice to the voting booth.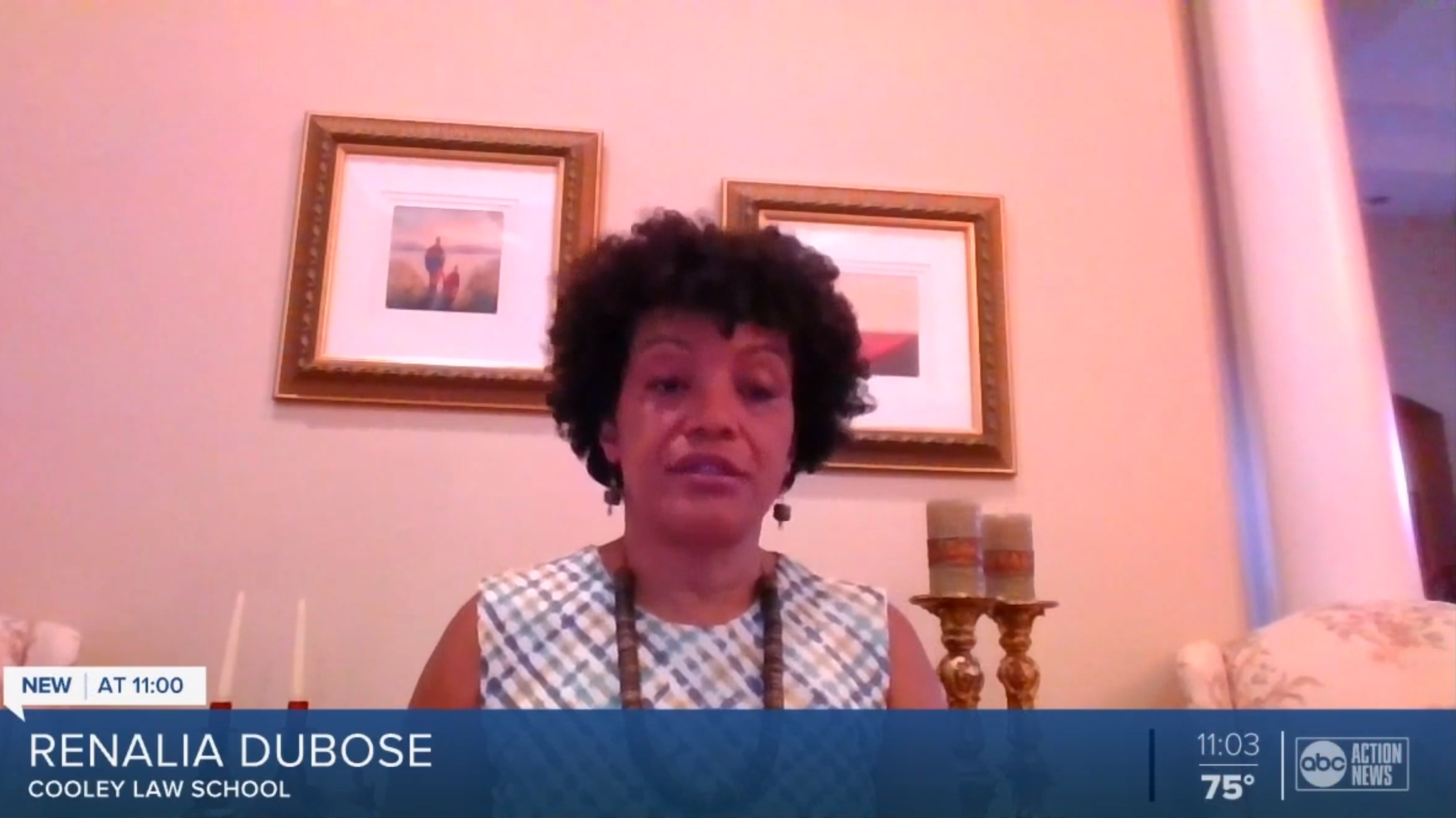 "If a mayor runs a police department that allows this to happen, then that person needs to be voted out. We need to exercise our power at the ballot," Dubose told ABC Action News.
U.S. News & World Report
Associate Dean Brame spoke to Susan Milligan, Senior Politics Writer for U.S. News & World Report on June 5, 2020, about how protests against racism look different than before.
"It feels a little bit less like black versus white, than it is right versus wrong," Brame says. "Were not fighting anymore to prove that racism is bad, or that racism exists."
Western Herald
Associate Dean Brame speaks to Aya Miller, Lead C&C Reporter for Western Michigan University's student paper the Western Herald about how the community responds to protests, unrest.
"The nation is once again reeling from the effects of the death of a person of color at the hands of those who are supposed to protect and serve each of us," Brame said. "(the civil unrest) should not distract from the true issue that as a post-Jim Crow Laws nation, we need to do better at recognizing racial biases."
ABC ACTION NEWS TV
Professor Krause-Phelan speaks to ABC Action News about the conversation surrounding police reform and the allocation of funding to police.

"What they're really talking about is diverting money that's being used for all of this militaristic training that really isn't necessary across this country on a daily basis," said Krause-Phelan.
The CT Mirror
Krause-Phelan also speaks to The CT Mirror on June 12, 2020. "When law enforcement looks and acts like a militarized force, it's not long before they start thinking like a militarized force," said Tonya Krause-Phelan, a professor at Western Michigan University Cooley Law School. "As a result, they view the public — those they swore an oath to serve and protect — as enemy combatants."
---
Brame, who joined Cooley in 2006, teaches Family Law, Race and the Supreme Court, and a Death Penalty Seminar. Additionally, she runs the West Michigan Public Defender Clinic, and is the founder and director of the law school's Access to Justice Clinic.
DuBose joined Cooley in 2013. She teaches Contracts I and II, Personal and Professional Responsibility, Education Law, and Employment Law.
Krause-Phelan joined Cooley in 2005, and worked as both a private criminal defense practitioner and as an assistant public defender with the Kent County Office of the Defender in Grand Rapids.