Law students in WMU-Cooley's Down Under program not only get to learn the law in one of the coolest places on the planet, they also get to learn from the 'best of the best.' Like Professor William Lye, OAM, who was named 2017's Barrister of the Year during Lawyers Weekly Australia Law Awards ceremony this year, and also honored with the prestigious Excellence Award.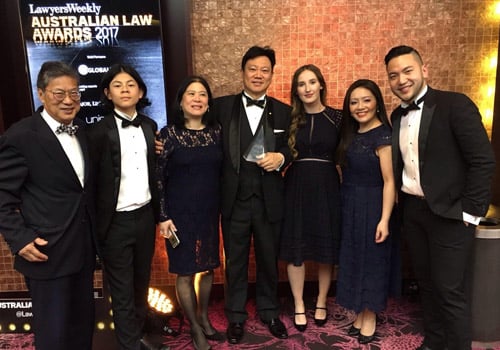 Mr. Lye's recognition

is for his outstanding efforts to promote diversity and inclusion in his community and among Asian Australian lawyers.

"It was my privilege to lead by example in order to challenge, inspire, and empower others to persevere and build resilience despite experiencing setbacks and failures," stated Lye.


Lye is an adjunct faculty member in the law school's 2018 Australia/New Zealand Semester Abroad Program and teaches Introduction to Australian Legal System. He believes diversity, in the classroom and in thought, reaps many rewards.
"I believe that where there is diversity of thought in an inclusive environment, the best outcomes can be achieved for the benefit of the community. I am privileged to serve as AALA's national Vice President and work collaboratively with a dedicated and passionate team of Asian Australian lawyers."

For many years, Mr. Lye was the only barrister of Chinese Malaysian heritage at the Victorian Bar. He founded the Asia Practice section of the Commercial Bar Association of Victoria, and the inaugural "Engaging the Asian Economies – Law & Practice" conference held at Banco Court, Supreme Court of Victoria. He is one of the founding members of the Asian Australian Lawyers Association that seeks to promote cultural diversity in the law.
Mr. Lye is just as committed and passionate about education. "I believe that when I share my knowledge I haven't lost it but I have indeed gained from the experience of empowering others to do the same."

He comes by his commitment to education naturally. "My great grandfather settled in Malaysia in the early 1800s. One of the amazing things I recently learnt is that my grandfather Lye Sye Cheong's brother, Dr. Lye Hong Cheong, was married to Ng Foong Lin the niece of Dr. Wu Lien Teh (伍連德) the first medical student of Chinese descent to study at the University of Cambridge and the first Malaysian nominated to receive a Nobel Prize in Medicine in 1935. Dr. Wu Lien Teh is regarded as the first person to modernize China's medicine services and medical education."
---
Thank you, Mr. Lye, for sharing your knowledge and experience to this year's students in WMU-Cooley Australia/New Zealand Study Abroad Program!