WMU-Cooley Professor teaches law students the foundations of good writing
Students often tell WMU-Cooley Professor Barbara Kalinowski that they are bad writers or they say, "It's just not my thing." Those kinds of comments don't wash for Kalinowski, especially in the classroom.
"I think that students have learned to use that as a crutch," posits Kalinowski. "When students tell me 'I'm intelligent, but I'm just not a good writer,' I tell them that an excellent attorney must also be an excellent writer to succeed; and the best way to accomplish this is to do a lot of writing. Instead of avoiding opportunities to write, tackle them like a champ."
Why does Kalinowski believe all attorneys need to be excellent writers?
It's simple. Nearly everything that an attorney does must be conveyed to another person in writing. In fact, judges and other attorneys primarily assess the quality of your advocacy and the strength of your client's case through your writing.
FOUNDATIONS OF GOOD WRITING in Law school
Kalinowski always tells her students that they can overcome their fear of writing by learning the foundations and strategies of good writing, and then practice, practice, practice!
"We practice in the classroom with lots of short, in-class exercises and a few longer, more involved assignments," states Kalinowski. "Those assignments help students learn the structure of legal analysis. Knowing this structure helps prevent writer's block, or the fear that 'I don't want to do it wrong and have it on paper, where others may see my mistake.'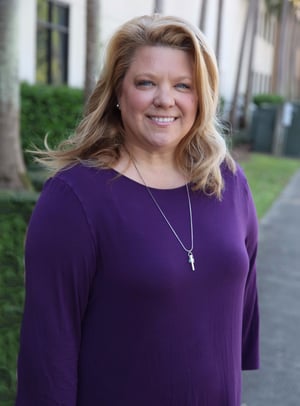 "But once you have a learned the structure of legal analysis, then much of that fear is alleviated. You don't have to worry 'Is this the right thing to write?' because the structure tells you what you should be writing about. There's really no secret to it. Once you've internalized the order is that's expected in analysis, then it's much easier to go forward. It's very confidence building."
Another thing that some people never think about, according to Kalinowski, is that good writing often flows from reading—a lot. Extensive reading in various genres helps you recognize good writing when you read it.
"It's recognizing what is easy to read, recognizing when some piece of writing has given you a lot of important information in a way that's seamless and effortless. Once you learn to appreciate good writing because you've read it, then you have a foundation upon which to build your own writing."
Legal writing, in many ways, is a very technical type of writing—which is a good thing, promises Kalinowski.
"It's not creative writing. It's not a type of writing that is enhanced by the length or complexity of the writing itself. It is very technical in the sense that there are certain expectations that have to be met. Attorneys expect to see certain things in the documents that they read and write. So, students in law school, once they've learned and integrated the format of legal writing, will find it is much easier to follow and to analyze ideas because they already have this internal structure in their mind."
WMU-COOLEY TEACHING ADVANTAGE
According to Kalinowski, there is no other law school in the nation that dedicates and emphasizes as much the critical-writing and plain-language skills necessary to be an excellent attorney.
WMU-Cooley Law School is known for having professors who have real world experience, and the same holds true for its Research and Writing faculty. They have worked for judges, in the courts, in business, or as solo practitioners. They know what's expected.
"I think the law school has a huge advantage over others whose professors only teach and haven't actually practiced before," suggests Kalinowski. "Another thing that makes WMU-Cooley stand out is that we not only focus on the analytical nature of writing, but we get down to the basics. We emphasize writing mechanics and plain language. We even reinforce basic ideas like, 'What is the proper punctuation?'"
WHY GOOD WRITING IS NECESSARY
Kalinowski explains it like this. "Everybody knows that lawyers are intelligent. Everyone knows that lawyers have a lot of information up there. But the thing that very few students realize until they get to law school is that it doesn't matter how smart you are, or how much you know; if you can't communicate what you know to another person, whether that be your employer, or a judge, or opposing counsel, none of it matters."
Now that's plain language.
"What we do at WMU-Cooley is teach the writing and communication skills students will need in law school and in the practice of law. Those legal communication skills, whether they be oral or written, are maximized so that you will be able to show the professor, or judge, or an employer, how much work you've done and how well you understand the law."
WRITING IS REWARDING
There's no question that the process of legal research and writing is difficult, but Kalinowski is clear: writing can be extremely rewarding, especially when you know your hard work has impacted or helped another. She has seen it time and time again. Students who master the process of legal research and writing discover that it does become fun.
Kalinowski herself worked for the Michigan Court of Appeals as a staff attorney and immediately recognized, from speaking to the judges and from reading hundreds of briefs, the importance of clear legal writing.
"What I especially learned is that it can actually hurt a client's case when arguments are poorly written or poorly expressed in the courtroom," warned Kalinowski. "It's tragic when the quality of an argument gets in the way of a client getting their desired relief. That was a very early and very practical lesson in the importance of clarity in legal writing."
She reminds students that, even if a client has a good legal argument, poor legal writing becomes an obstacle for the court to rule in that client's favor.
"After my experience with the Court of Appeals, I knew I had a solid base of experience and insight into legal writing, and decided to start my own consulting firm doing legal writing for other attorneys, and I did it for almost 20 years. Then it seemed like a very natural progression with all of my experience to go from doing writing and consulting to then teaching. I know that my writing experience enhances the classroom in many ways."
GREAT CAREER CHOICE
Kalinowski is married and has three sons—two in college and one 10-year-old. Her youngest is severely autistic and non-verbal. She confesses that her "wonderful boy takes up literally every waking moment of her life with all of his hijinks."
"It's a lot of work to take care of a special-needs child," acknowledges Kalinowski, "but I love that WMU-Cooley has given me an opportunity to teach and also have a family. I absolutely think the practice of law can be a perfect career for a woman and a mother with a family. I always tell my students who are worried about having a work-life balance that being an attorney gives you such a great advantage because there are so many opportunities to work from home, to schedule your client meetings, and to have a life outside of the office. I know that I have been able to reap the benefits of that very much, particularly as a professor."