WMU-Cooley graduate Christina Corl: High Demand and High Honors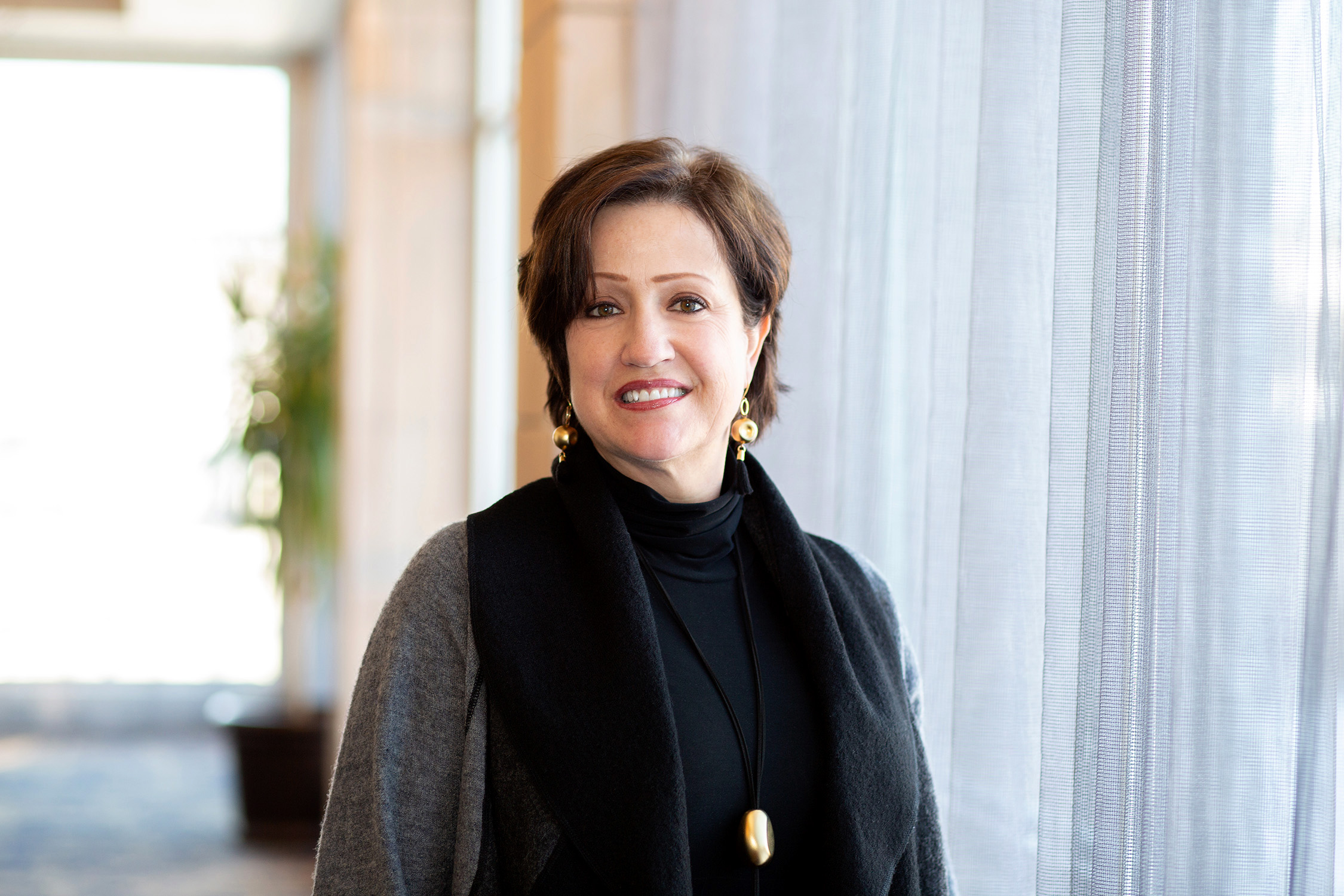 "If you stick around long enough, you'll see everything," noted Christina Corl, partner at Plunkett Cooney and one of a trio of new WMU-Cooley Law School Board of Directors members. Twenty five years into her legal career, Corl (Bird Class, 1995) is rarely surprised anymore. Most likely, she indicated "I've seen it before."
It is that depth and breadth of experience that made her a natural to be tapped for the WMU-Cooley board.
Corl focuses her litigation practice primarily on employer liability issues, and also has extensive experience in commercial litigation; product, premises and professional liability; and municipal law.
Her clients have included national retailers such as Home Depot, large trucking companies, Burger King franchisees, and Gordon Biersch Brewery; governmental and municipal clients; educational institutions, including The Ohio State University, Miami University, and the University of Cincinnati; the Fraternal Order of Police (FOP) and the USA Track & Field Association (USATF).
Corl is in high demand for her expertise in employment law, working with her clients' Human Resources departments. She drafts and helps her client to implement policies and assists in difficult decisions regarding personnel matters. For many of her clients, Corl said she serves as a quasi-outside human resources department.
She has served as associate general counsel for the FOP and USATF, and has represented law enforcement in excessive use of force issues. She has concentrated a large portion of her practice advising colleges and universities regarding policies and procedures for investigating and adjudicating claims of sexual misconduct on campus, typically in a Title IX context. She's also represented state universities in Title IX and civil rights litigation in federal court.
Corl is part of the changing face of the law. Diversity has grown from a buzzword in the legal profession, to an essential component in the workplace.
"What we've noticed most recently, is that there is a corporate push over the last 10 years to diversity," Corl noted. "And it's not enough to just have women lawyers; clients want to know if you have them in executive and administrative positions." With governmental clients, there are even annual forms to fill out. "This has been a huge focus."
CORL EMBODIES CHANGE
Not only is Corl a partner with Plunkett Cooney, but she also manages the firm's Columbus, Ohio, office; co-leads the firm's Labor and Employment, Education, and Workers' Compensation Law Practice Group; and was elected in February to Plunkett Cooney's board of directors. The positions of responsibility have not altered her commitment to her active roster of clients.
The nature of the practice has changed, however. Corl has relished the courtroom ever since she got her first taste at WMU-Cooley, where she participated in moot court competitions and served on the National Criminal Trial Team.
The experience, she recalled, "tailored where I wanted to be. My teams did pretty well. It kind of dawned on me, 'Wow! I could be really good at this!' I couldn't wait to get to court!"
She definitely jumped in with both feet. On the day she was sworn into the bar, Corl left that ceremony for the courtroom next door where she argued a motion in her first case.
When Corl first started practicing, she estimates she did nine or 10 jury trials some years. One of the keys to her success has been the sheer joy that she found in the courtroom setting. "There's nothing like being in front of a trial jury," she said.
"I like captive audiences," she joked. "I cut my teeth in that realm doing jury trials. They can't leave – so you win jury trials by being interesting and entertaining. You want to hold people's interest."
As her practice matured, however, her increasingly high-profile clients had more at stake and, as time went on, were less willing to place their fate in the hands of a jury.
These days, Corl still finds herself in a courthouse, but it's most likely meeting with clients and fellow legal counsel to negotiate an acceptable outcome. The shift in strategy has been aided, Corl said, by her clients' growing awareness of the need to work with her before problems arise, as well as their willingness to craft procedures and policies to keep trouble at bay.
"The most fun for me," she shared, "is heading off disaster," adding she's been around long enough to see trouble coming down the road.
Corl's professional success did not start out with a lifelong dream to be a lawyer. When she first left her Upper Peninsula hometown of Engadine, Michigan, for Western Michigan University, she was going to be a journalist. It was a big shift from the 140-acre farm 30 miles from the shore of Lake Superior, to undergraduate life in Kalamazoo, Michigan, but Corl excelled, graduating magna cum laude in 1991. But, by the time she graduated, Corl no longer wished to be a reporter, and set her sights on law school.
SUCCESS IN LAW SCHOOL
She also shined in law school, graduating first in her class, summa cum laude, and winning the Distinguished Student Award. She also won the John Voelker Award for her service on the Law Review.
Another twist came with her post-law school plans. Originally Corl had planned to become an FBI agent, but was disqualified by her less than perfect vision. Plan B was a career as a prosecuting attorney, but before that idea could take hold, Corl was introduced to a different kind of law via a summer associate position with Plunkett Cooney in Detroit. She was intrigued and quite effective in this realm, and her career was off and running. She served as an associate at Plunkett Cooney in Michigan for two years before life directed her down another path
That change occurred when, in the midst of a jury trial in Midland, Michigan, Corl's best friend from law school married the college roommate of a man named D.J. Falcoski. Corl and Falcoski, who was from Ohio, were paired up at that wedding, hit it off famously, and have now celebrated 24 years of marriage.
Corl then worked for Crabbe Brown & James in Columbus for 18 years before rejoining Plunkett Cooney, this time as a partner in the firm's Columbus office. She is admitted to practice in Michigan, Ohio and Georgia.
Falcoski, who is a real estate agent, and Corl, have a daughter, Catharine, 9. Corl sometimes works 12-hour days, plus some Saturdays, so Falcoski takes point on many of the day-to-day logistics.
"My husband makes my life possible," she shared. "I couldn't have the practice I have without him."
Diversity among people in the workplace is not the only change Corl has seen. The growth of technology and the advent of social media have presented huge changes in the field of law.
"The most interesting development in doing what I do - everyone is posting everything they do all day long on Facebook," Corl said. "They make claims (in legal action) that they themselves refute on Facebook!"
Corl handled one case where a litigant claimed her story was supported by nearby "strangers" – who turned out to actually be an in-law and a former co-worker, at least one of whom laughed about the non-existent "incident" on Facebook. Or the case of the deputy who called in sick, only to have friends post photos of the whitewater rafting trip he was actually on at the time.
"People have a false sense of security," Corl said. "Friends and family re-post." All it takes, she said, is for one person to share with someone who doesn't have their page locked down and that information is in the arsenal of information she uses to win a case. While she doesn't spend much time on social media herself, she has a team of paralegals and associate attorneys who just love that kind of assignment.
ADVANCES IN TECHNOLOGY
Corl sees technology continuing to change the face of law. One of the biggest changes she sees coming will take place as millennials start to be in positions of power. "There will be less brick and mortar and more virtual offices," she said.
The face of law – and its elements – will continue to change within the walls of offices also, she said. "Our office is almost completely paperless," she explained, adding that the future will include paper-free offices everywhere, working websites, and client portals – all quite a change from the days when she started practice and the fastest way to share information was the fax machine!
HIGH ACHIEVER
Corl's successes have been recognized often. She was given the Most Powerful and Influential Woman Award from the Ohio Diversity Council in 2017; was named an Ohio Super Lawyer in Civil Litigation: Defense, by Ohio Super Lawyers, 2015-2017; and was designated an Ohio Super Lawyer Rising Star in Civil Litigation: Defense, by Ohio Super Lawyers, 2005-2007.
She has also been awarded Martindale-Hubbell's highest rating of AV Preeminent. The peer-rated listing is one that is important to both lawyers and clients, she said. "Attorneys are not always complimentary of one another, so this ranking is truly a high honor and is one of the few awards/ranking that the public should find to be reliable."
Corl was also recently honored by the Greater Columbus Community Helping Hands, Inc., organization, for being a role model for youth in the greater Columbus area.