Ten years ago, everyone wanted to go to law school. There was monumental interest at the time and nearly every law school was being selective. My nearby law school at the University of Iowa didn't accept me, nor did any other law school within a one hour radius. - WMU-Cooley graduate Micki Meier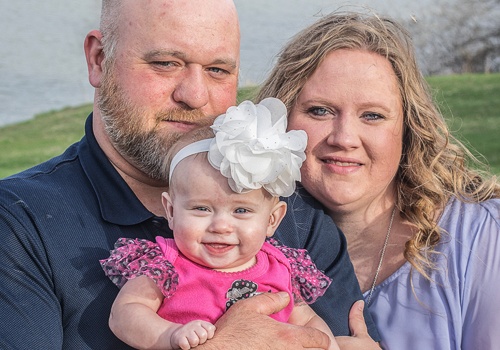 "It makes sense, but it made going to law school tough," remembered Meier. "Law school was a big decision for me. I was married with small children. Going to law school was going to be a stretch, at best. I
got my acceptance letter from WMU-Cooley after receiving a number of rejection letters, I thought, 'This is it. This is the law school for me!' It sounds strange, but I was just happy to go there. They treated me like I was special.'"

Not only did WMU-Cooley give Meier her opportunity to go to law school, they also had a campus located within striking distance. WMU-Cooley's Grand Rapids campus was 5 1/2 hours away from her home in Davenport, Iowa. If you ask her now, the longer distance actually ended up being a good thing.
"For me, being away from home allowed me to really immerse myself into my classes without any distractions," admitted Meier. "Anyone in law school knows that your studies need to be your primary focus. It's hard to do it any other way."
Law school was tough admits Meier, but she embraced the intellectual challenge and work with gusto.
"I had heard so much about law school and how tough it was." stated Meier. "Don't get me wrong. Law school was difficult, but the professors made me feel like family. They let me know that I could approach them at any time for any reason. They welcomed me with open arms, and open doors. They happily answered questions I had or explained something we talked about in class.
"There never was a time where I felt discouraged. Maybe I never got a book award like many of my friends, but the faculty and staff made me feel a success, regardless."
The law school challenge was punctuated by Meier's goal to finish law school as quickly as she could. To get back to her family and start her legal career.
"I was on the fast track to finish my degree," stated Meier. "I was doing everything I could to graduate early. That meant going to law school year-round and doing the Accelerated Program. What stands out for me is the flexibility of WMU-Cooley's program. It is amazing! I was able to take classes every way imaginable - days, evenings, even weekends. WMU-Cooley helped me fit my self inflicted fast track timetable into my time schedule."
Meier rented an affordable apartment in Grand Rapids, hunkered down, and commuted to class every single day to keep on track.
"I managed to finish my degree in 2 1/2 years," exclaimed Meier. " I was able to do it by taking two years of classes and one semester for my externship."
Turned out her externship at the Scott County Attorney's Office in Davenport, Iowa was a very meaningful experience for Meier.
"I spent a lot of time in the courts and learned a ton," added Meier. "Even now, working in my own practice, I spend much of my time there for my practice."
Meier is grateful for her time at WMU-Cooley and the lessons she learned. She keeps in touch with professors and friends, and recently shared some good news (letter below).
"I wanted to let the law school know that things are going very well for me. I wanted to touch base to thank the professors for their insight, help, and knowledge. After I graduated I was licensed in Iowa in 2014. Since then I have been practicing as a solo practitioner. I share office space with some other attorneys who have helped me immensely. I think my family has figured out the whole work/life balance thing. Recently I was required to go in front of the Supreme Court of Iowa to do an argument. It was nerve wracking, especially because of the difficulty of the case. I wasn't sure it was going anywhere. It was a criminal case with a probable cause issue. I was appointed to at the appellate level. Last Friday I was notified that I had won the case in a very controversial 4-3 opinion! I was, and still am, completely stunned. This opinion changes the way our Constitution will be interpreted. I wanted to share this because I feel the law school made it possible for me to be able to do this. I am not a person that likes a lot of attention, and have been downplaying the event since I got word last Friday, but I am very proud of what I did and proud of how the law school played a part in my education. Special shout out to Grand Rapids Dean Nelson Miller and Professor Tonya Krause-Phelan. Again, I wanted to share this great news so that you know that you are making a difference in the lives of your students. Keep up the great work."