Ed Sternisha - Bridging the Divide and Putting Together All the Pieces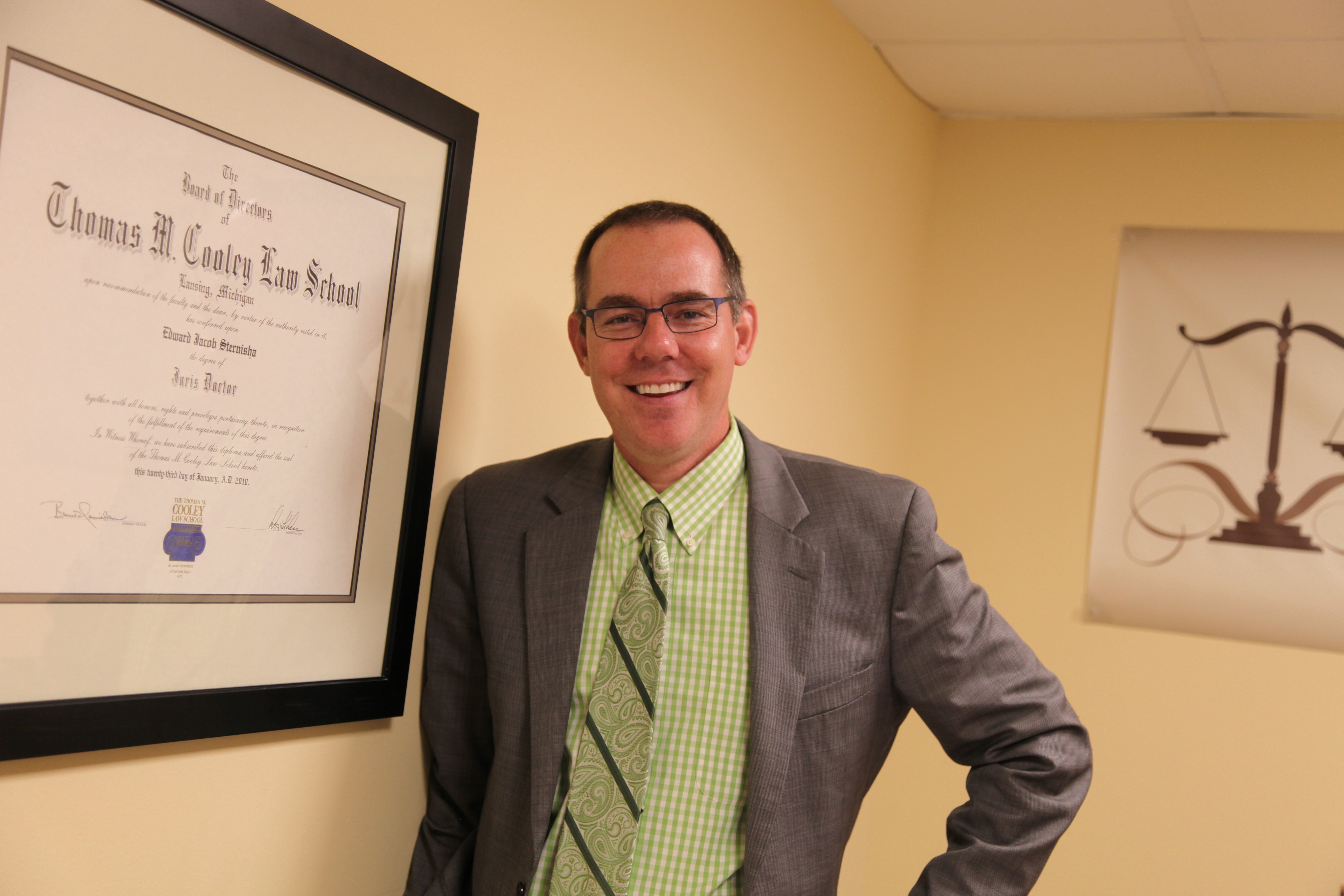 Anyone who's ever seen an episode of Law & Order knows there are the police, and then there are the defense attorneys. They rarely like each other, they have different goals, and they certainly aren't in the same camp.
Meet Ed Sternisha. The WMU-Cooley graduate has erased that divide between defense counsel and law enforcement on a personal level. That is because he is both a private practice defense attorney and a reserve police officer. By day, he provides innovative and relentless representation for drunk drivers; by night, he helps officers arrests them. And, somehow, he has managed to bridge the divide and avoid conflict between his two worlds.
"For me," stated Sternisha, "the law is the law, and I love it. I don't care which side I'm on, as a defense attorney, as a reserve police officer or even as an adjunct law professor. I feel the work I'm doing is in the middle. I don't care who's doing it, I just want it done right."
JACK-OF-ALL-TRADES
Sternisha is accustomed to being a jack-of-all-trades. He started out as an intern with the Grand Rapids Police Department out of high school, attended the police academy, and earned his associate's degree in criminal justice. He joined a Public Safety Department in the Detroit area, and completed his firefighter certification and Emergency Medical Services training.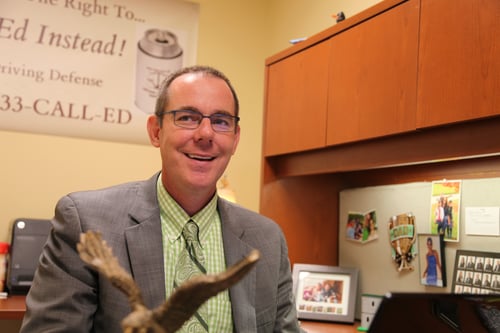 He then switched directions and responded to a friend's request for help at a Grand Rapids insurance agency. The friend sent Sternisha to "insurance school." In 1994, Sternisha earned his insurance agent license and opened his own agency, eventually founding offices in Grand Rapids, Dorr, and Hastings, Michigan, while working as a part-time police officer, by this time in Ionia County.

He explored paralegal school, then altered course again and obtained his private detective license. Keeping his insurance offices open, he started a separate business in bail bonds, private detective work, and security.

Still searching out new horizons, Sternisha sold his insurance offices, obtained a bachelor's degree in business management with an emphasis in criminal justice, and enrolled at WMU-Cooley Law School. Several years later, he is now an attorney, reserve police officer, and an adjunct professor. He's kept all his licenses current and his experience in so many different areas has come in handy in the courtroom, the classroom, and out in the field.

"It's all that I've done that connects everything together," explained Sternisha. "Combining my experience as a police officer, private detective, bail bondsman – all those things – have collectively helped me create who I am today. Even my experience as an insurance agent has proven to be invaluable to my clients, especially those who may have been involved in a drunk driving crash, and the insurance company is involved. I make sure to keep all my licenses active."
And even though he is no longer certified as a police officer, by working as a reserve officer, Sternisha keeps his investigative skills sharp.
USING ALL AREAS OF EXPERTISE
Sternisha has become extremely well-versed in the field of drunk driving defense, speed limit issues, and the often surprising way the two can interact. One case, Sternisha recalled, started out as a simple speeding violation as the reason for the traffic stop, then mushroomed into so much more.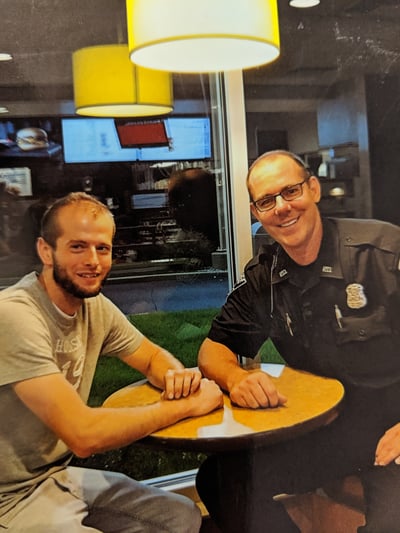 A complicated mix that alleged speeding, state speed limit laws, municipal issues with speed limit signage, a drunk driving situation and a weapons charge. All his areas of expertise and his penchant for putting the pieces of a puzzle together would combine to deal with a case that bounced from district court all the way up to the Michigan Supreme Court and back again, with frequent stops in between at the circuit court, the Court of Appeals, and even the county clerk's office.
It took long enough for the dust to settle that, by the time the opinion came down, Sternisha and his client were the only original participants left in the proceeding. Prosecutors had come and gone, deputies had moved on – even some of the judges were new. But Sternisha had won the drunk driving-speeding violation case and had obtained enough in the opinion from the state Court of Appeals, that other attorneys will be able to get some support in the future with their own clients' speeding issues and municipal violations of state speed limit signage requirements. Even though the prosecutor's office has filed an application for leave to appeal to the Michigan Supreme Court, Sternisha, after filing his brief in response, does not believe the case will be overturned. "The Court of Appeals wrote a pretty good opinion. They really understood the issues in this case so I don't believe there is any room for a reversal," Sternisha commented.

In another case, Sternisha picked up on procedural errors from an officer's bodycam video, and was able to get the judge to throw out a breathalyzer test result. This then caused the prosecutor's office to dismiss the case because they no longer had any evidence to support a DUI conviction. The client dodged a legal situation, but it was clear to him at that point that he needed to make some hard life changes – and do so quickly. Sternisha points out proudly that, to this day, the client is still not consuming alcohol.

Although he has been able to have many cases dismissed due to his investigations, Sternisha makes it clear that he does not defend the act of driving under the influence. "I don't defend drunk driving," he explained. "I defend the client and make sure their rights are protected." He's brought clients in as guest speakers, so that his students can see the people behind the charges - good people who've made mistakes and learned from them.
PIECING TOGETHER THE PUZZLE
For Sternisha, it's easy to reconcile the seemingly impossible divide between his defense attorney career, his work as a reserve police officer, and his tenure as an adjunct professor of law that he feels bridges the gap.

"I love that everything I have done and do now, has somehow neatly fit into the puzzle of life, including being able to teach law students at WMU-Cooley Law School. I'm teaching future defense attorneys and future prosecutors how it all comes together. And that's what I love about teaching – I get to teach them the law and how to use it."

Sternisha and his wife, Jennifer, have three children, Noah, a high school freshman; Isabelle, a seventh grader, and Jacob, a third grader.