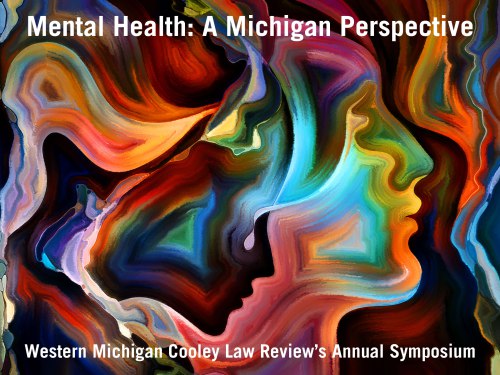 Welcome back to the Law School Insider, a podcast brought to you by Western Michigan University Cooley Law School. This week we are examing Mental Health in Michigan.
"Mental Health: A Michigan Perspective" was the topic of discussion at this year's Western Michigan University Cooley Law Review's Annual Symposium at WMU-Cooley Law School's Lansing campus. The May 19 event featured a diverse panel of community leaders from a variety of backgrounds including law, healthcare, non-profit, state government and corrections. The group discussed issues facing mental health today.
Panelists include:
Lt. Gov. Brian Calley: Michigan lieutenant governor
Beverly Griffor: managing partner, Collis & Griffor, P.C.
Milton L. Mack, Jr.: court administrator, Michigan Supreme Court
Professor Lauren Rousseau: professor, WMU-Cooley Law School
Major Sam Davis: corrections major, Ingham County Sheriff's Office
Mark Reinstein: president & CEO, Mental Health Association of Michigan
Read more about the Event on the WMU Cooley Law School Blog
Did you like this interview? Do you have any questions? Leave a comment below to let me know!

If you liked this interview please consider leaving a ranking and review on iTunes, as this helps others to find us as well.

Are you a practicing lawyer? A law student? Would you like to be a guest on an upcoming episode of the Law School Insider or do you have a topic you would like to hear about? Send me an email at lawschoolinsider@cooley.edu