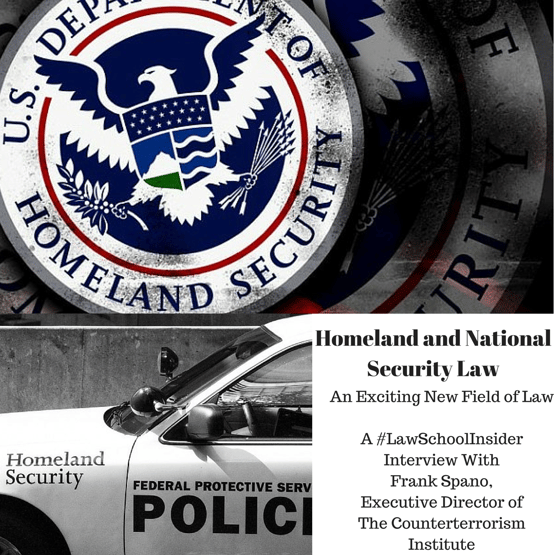 In today's episode we speak with Frank Spano, Executive Director of The Counterterrorism Institute and
graduate of
Western Michigan University Cooley Law School about his experiences going through law school and the field of Homeland and National Security Law.
Frank Spano started his education and career through military training and serving within the United Stated Air Force. During his time in the United States Air Force, he was a part of the anti-terrorism team. This experience pushed him to first receive his masters degree and then the Juris Doctorate was the next national transition.
This transition to being a law school was also fueled through a new body of law that was emerging, Homeland and National Security Law. As he started law school he found that law school was a great fit for him (and he says for all military veterans) especially because of the heightened sense of discipline and detail that is required.
Early in his time at his first law school he came to find that he wanted to transfer to Western Michigan University Cooley Law School because of the specialized program in Homeland and National Security Law that was available.
By transferring to Western Michigan University Cooley Law School he was able to immerse himself in the law and specifically Homeland and National Security Law. He was able to network and build great relationships with faculty members that became mentors, such as the program director, Brigadier General Michael McDaniel.
In his time in law school, Frank found that is was very important to get involved in student organizations, as this will allow you to network and build many skills that you can then take with you into your career.
If you are interested in going into homeland and national security law, there are some things that Frank Spano mentioned you should consider:
Homeland and national security law happens in more areas than in just a courtroom.
You must be able to convey your ideas in a wide array of mediums (print, audio, etc).
You must have strong writing abilities
Do what you can to write as much as you can while in law school.
Develop relationships with faculty - they will last.
Consider developing an understanding of non-profit work, as you may find an intersection between this and your career.
In the end Frank Spano mentioned that you must commit to law school and make it the priority in your life. While in law school make the most of your experience, get involved with the school and organizations and get involved with other students.
Did you like this interview? Are you interested in Homeland and National Security Law? If so, leave a comment below to let me know what you are most interested in!
Are you a practicing lawyer? A law student? Would you like to be a guest on an upcoming episode of the Law School Insider? Send me an email at lawschoolinsider@cooley.edu