Dive into the justice system, explore important topics, and get your questions answered as you connect with the WMU-Cooley community.
AT THE HEART OF GOLD: Inside the USA Gymnastics Scandal Panel Discussion
Thursday, September 30, 2021 at noon (ET)
Join this important fall kick-off WMU-Cooley Community Conversations virtual event with panelists:
Judge Rosemarie Aquilina, who sentenced disgraced gymnastics doctor Larry Nassar
Trinea Gonczar, abuse survivor
Mick Grewal, who represented 111 of the 333 survivors in the lawsuit against Michigan State University and representing 139 of the 543 survivors against USA Gymnastics and the United States Olympic Committee.
At the Heart of Gold: Inside the USA Gymnastics Scandal, is a powerful documentary that reveals a dangerous system that prioritized winning over everything else.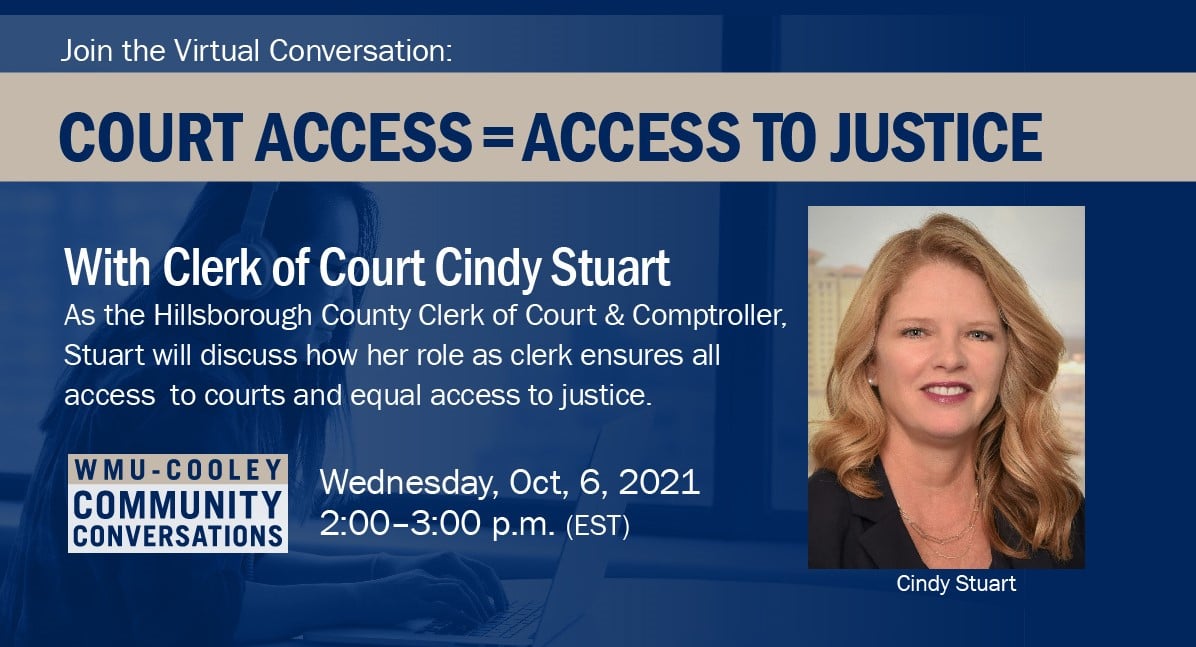 Learn the critical importance of how a citizen's access to courts is essential to equal access to justice.
COURT ACCESS = ACCESS TO JUSTICE
Wednesday, October 6, 2021 at 2:00 p.m. (ET)
Cindy Stuart was elected Hillsborough County Clerk of Court & Comptroller in September 2020 and sworn into office on January 5, 2021. Before her election as Clerk, she served eight years on the Hillsborough County School Board. She served on the School Board's Legislative Committee, interacting directly with contracted firms on state and federal legislative initiatives and was a Florida School Boards Association board member and member of its state legislative committee.