Shanda Vander Ark grew up wanting to be an astronaut. In fact she thought she had made it into the Air Force Academy – until she didn't pass her physical exam. Who would have known that having a screw in a shoulder from an eighth grade injury would be a deal breaker?
That, along with other life changes and lessons, seemed to impact the trajectory of Vander Ark's life. After deciding she would enter college instead of the Air Force Academy, life intervened, and she was married before she even graduated.
"I stayed home for 10 years, had four kids, then things went south. I didn't know what I was going to do, but I knew it wasn't going to be in this marriage. I started thinking about my options, and I kept coming back to the idea of law school. I've been told my whole life that I should be a lawyer. Maybe because of the way I argue, or the way I look at things. Or maybe because I used to read Supreme Court cases when I was little," laughed Vander Ark.
Yet it was Vander Ark's father-in-law from her second marriage, a WMU-Cooley graduate, who gave her the nudge she needed to get serious about law school. They talked a lot about the path forward and her different options.
"The first thing I did was wrap up my undergraduate degree, then I took the LSAT. My father-in-law suggested that I apply to three law schools. I applied to Michigan, WMU-Cooley, and Alabama, since I am originally from there, and was accepted everywhere. It was the 100 percent scholarship at WMU-Cooley that made my decision easy. I knew I didn't want to put my family out in terms of financing my legal studies, and I didn't want to move away from my support structure. Now that I'm here, I absolutely love it, and I have been excelling in my classes and in my competition skills training."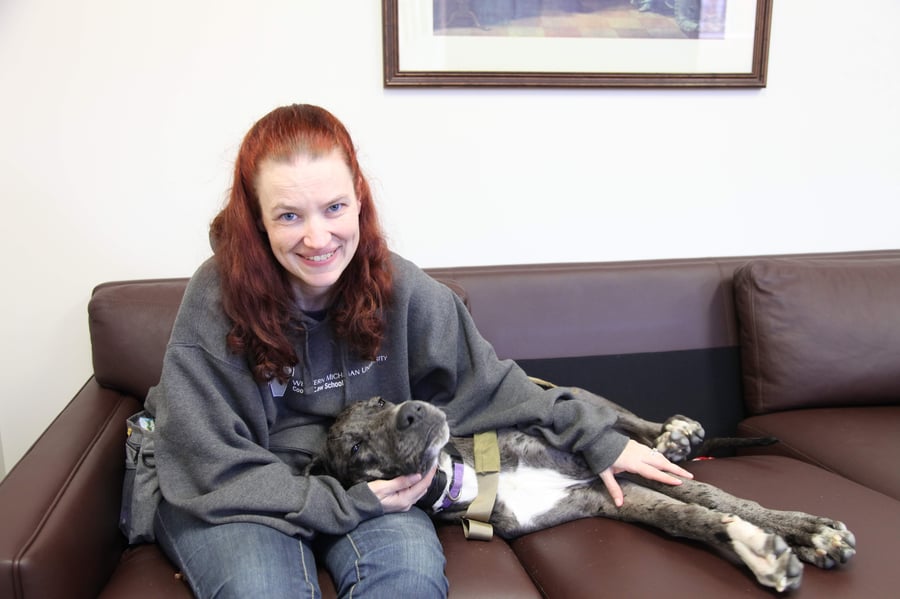 CARING FACULTY
As much as her scholarship got her to WMU-Cooley, it's the caring faculty and loving community that make her very happy with her decision.
"You just don't get the one-on-one attention like you do here," stated Vander Ark. "I talked to some folks, even some family members, who went to the other law schools before I made my decision. I wanted to know what the conditions were like. What I heard, and what I know from being here, is that you truly get individualized attention here. You always feel you can approach your professors. They aren't going to chase you off or ignore you, or tell you to go talk to a teaching assistant. I can talk to professors after class or during class breaks, or any time. You aren't just a number here like at other law schools."
If you were to ask Vander Ark what has stood out the most for her as a student at WMU-Cooley, she would tell you that the faculty stand out the most. "The way they interact with students." She also thinks the law school's sense of community and camaraderie is next to none. These law school qualities become even more important because of Vander Ark's reactive hypoglycemia condition. It's something she has had to deal with most of her life.
"After child number four I noticed that I couldn't get away with just eating something to avoid passing out," shared Vander Ark. "It was getting much worse. I'd eat and drink a Coke, but I'd still pass out. Even testing didn't find anything conclusive for the change. What they ended up telling me, and that was eight years ago, is that I needed to get a service dog, or lose my driver's license."
Given that choice, she started looking into what it would take to get a service dog. Vander Ark knew that she needed a service dog trained by a scent.
SERVICE DOGS grant FREEDOM
Vander Ark's love for dogs and her involvement in service dog organizations started well before she needed one herself.
"I used to work for a service dog organization in North Carolina before I was ever married and the kids were born," explained Vander Ark. "I've trained all different types. What I learned early on is that your wait for a "free" dog is 18-24 months. Otherwise, for blood sugar alert, they are about $40,000, and insurance won't cover it."
How do you get a service dog for free? You need to find a puppy prospect and train the puppy yourself, which is what Vander Ark did. She personally prefers large breeds, especially Danes and Labradors.
"I went and tested pups at three-weeks old during our puppies in breeding program when I first needed a service dog. Aslan, my first service dog, was the only one out of six that tested out. He did well at three and four weeks, then I picked him up at six weeks and followed through with his training myself. He has served me well."
She noticed last February that Aslan was limping and she took him to the vet. It was discovered that Aslan was already showing signs of early arthritis. She knew that she needed to start looking for puppies with a nose for medical alert.
"He has worked faithfully since day one," asserted Vander Ark. "It's my turn to care for him. My new Dane puppy, Gemini, is learning fast and his training is going very well. Both dogs are working half time for me now, but by the end of the summer semester, Gemini will be full-time and Aslan will retire. I do want Aslan to walk with me at graduation," asserted Vander Ark with pride. "He got me through these first two semesters. I want him to walk me across that stage."
DOG DAYS IN THE CLASSROOM
The dogs may be necessary companions for Vander Ark, but they also have been a surprisingly welcome addition to the classroom. Aslan and Gemini are well behaved and quiet during class, mostly staying under her desk – unless she needs to be alerted, that is.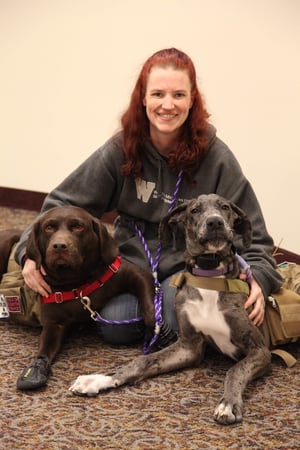 "Aslan used to alert beside me, but Gemini started out being right in my face," laughed Vander Ark about the two dogs differing approach to helping her. "When they alert, they touch my nose, but I sometimes end up getting bonked in the face when I turn to them. I always carry orange juice with me, which gives me about 2-3 hour window where I know my blood sugar is not going to crash again."
Vander Ark has been eternally grateful for the understanding and kindness of the administration and her fellow students. Not only have they been welcoming, they have been concerned and respectful of the dogs' role in being there.
"Some people are little disappointed when they find out they aren't supposed to pet service animals, but they say, 'Even if we can't pet him, just his presence is calming and relaxing to us, especially during exams."
It isn't just the students who appreciate the dogs' presence. One story Vander Ark shared was the time she happened to be standing in the dean's suite trying to get an answer to a question she had from a class, when campus Associate Dean Tracey Brame walked into the room, and Aslan alerted her.
"Even though the dogs are trained to alert to me, it's not unusual for the dogs to alert other people. Aslan went right over to Dean Brame and brushed her knee, which is my alert when I am standing. She immediately asked, 'What's he doing?' because she knows why he's there. I said, 'He's noticing something with your blood sugar.' She laughed and said 'I knew I had too much sugar with my meal.' I think that was pretty cool that he wants to help others too."
SKILLS TRAINING AND BEYOND
The whole process of training is different for every dog, and different for each handler explained Vander Ark. The trainer is going to face various issues in different environments. You have to learn and watch each dog to make sure you aren't doing things that may hurt their training.
As Vander Ark works on teaching her service dog the skills he needs to help her, she is also working on learning the skills she needs to help others once she graduates.
As a self-proclaimed "right-fighter," Vander Ark wants to use her new-found knowledge and law degree to tackle what she sees as the many injustices in the world.
"I've always had issues with injustice," proclaimed Vander Ark. "I've been the one to stand up and say, 'Hey wait a second, this isn't right.' My biggest area of interest is constitutional law. I feel as though our Constitution is being torn to shreds right now. We need to be able to take a stance and say these are our rights, or we are going to put ourselves in jeopardy of losing them.
"Intellectual property is another area of interest because I've been in the technology field for quite some time. But ultimately I will want to do something where I will come back to teaching. I've been homeschooling my children for years, and I love teaching. I love it as much as I love to help and advocate for people. My ultimate goal is to teach others how to advocate."
ADVOCATE for advocacy
The names Vander Ark chooses for her service dogs are important and symbolic. She wants their names to have a meaning.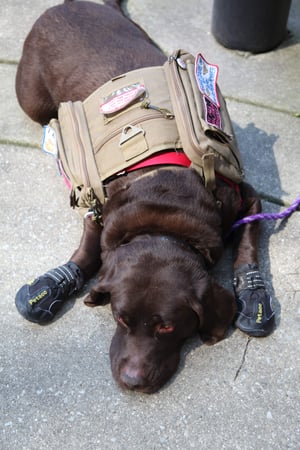 "Aslan is actually registered as 'Aslan the Great Protector' out of the Narnia books because he protects me from passing out. The name Gemini means 'light.' I see Gemini as my light in the darkness. I wouldn't be able to drive without my service dog. Being a parent, being a student, it would be a nightmare without my service dogs for support. It's amazing how much freedom and peace of mind my dogs give me."
Vander Ark's passion and energy is something she owns. She wants her work to "stand for something." Her conviction comes from living a life where she has personally had to advocate either for herself or for others. Her husband, a paraplegic, is in a wheelchair, but he can do a lot more with a service dog as a dog makes things much easier if there are mobility issues. The service dog can pick things up if dropped or help open doors.
"Keep in mind that 20 years ago the laws were slightly different, and they weren't as inclusive as they are now. Most people who needed service dogs didn't receive accommodations, or worse yet didn't fit into many work environments. There's a huge learning curve on both ends. I've had to educate many employers on ADA compliance and Title I and III rights. It's rewarding to me to be able to advocate and protect those who otherwise would not know their rights."
Vander Ark believes that when you live in a world where we have so many different people, everyone should embrace those differences. People who discriminate over any disability is something that drives Vander Ark crazy. As far as she is concerned "Everybody has struggles, whether it is diagnosed or not." She would like to see a world where people help and encourage other people instead of judging people, because you never know what the next person is going through.